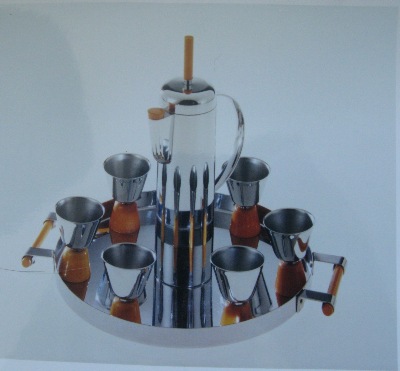 When we see an unstamped Revere item like a tray or cocktail shaker or matching cups, its a small wonder there are not more unstamped Revere items.

First look at Chase Brass & Copper Company, established in 1876, the leading supplier of it's time, in the Nation. The original Chase trade mark was its name inside a diamond. Early on in 1928 Rodney Chase decided to introduce to the World a new trade mark, a design of a Centaur. This would occur on October 6, 1928. And be stamped on Every item leaving the plant. From; the smallest 1/8th dia. rivets, carpet tacks, buttons, castings, plumbing supplies, to the 4 ft. x 12 ft. long sheets of brass & copper & bar stock. All would be stamped with the Centaur design. Same with bills, invoices, letter heads and so on. And they had the time and resources to do this. Note: this is long before the market crash. Years later when Chase entered the gift ware field, they were long use to stamping All items w/ trademark.

And if they wanted to stamp out 200 soap dishes per hour, from brass that would then be chrome plated, using a 4 stage progressive die all they had to do is have one of their tool & die makers add a logo stamp into the last blanking stage or the stage before that.

Now in 1928 Charles Dallas merged his own business, The Dallas Brass & Copper Company with five others to create the second largest supplier of copper and brass stock in its field. Mr. Dallas wanted a "National" sounding name. He chose Republic Brass Corporation. That would do it.

A year later, after the Black Thursday Stock Mark Crash of 1929, our whole Republic was at a standstill. Total sales for Republic Brass fell from $61 million to $12 million. Maybe a new name would revive sales, thought Dallas, and Republic was renamed after one of the five merged organizations located Rome,New York; the small Revere Copper & Brass Company. Now Charles Dallas had a company that could trace its ancestry back to Paul Revere and his copper company formed in 1801. Tho this did not kick start sales; the whole Country was in a Depression.

In 1932 the Rome manufacturing plant became an entirely separate unit of Revere with a goal of diversifying its line into the gift ware field and started to enlarge their new chrome-plating units to keep abreast with the demand in the newly developing field. But by the time struggling Revere got into the gift ware field and issued a catalog Chase had a gift shop in every major department store!

Revere was under funded and having problems just staying afloat with the new companies, never mind having the leisure time to worry about stamping every item leaving the plant. They had to hire designers, have dies and molds made and so on. If a few items were unstamped so be it, they would catch up later.


in my collection is a bel geddes cocktail shaker that is unstamped and a few cups unstamped. also notice that the unstamped cups are 1/8" inch shorter than the stamped cups i have. am just thinking these are from an early run. this should not change value in any way i am thinking. it's just an indication of time frame

also have an ashtray unstamped and a few other items that are not stamped.. These are just from the first years.