NORMAN BEL GEDDES BIO. NORMAN BEL GEDDES BOOKS. NORMAN BEL GEDDES SODA SYPHON, SODA KING SYPHON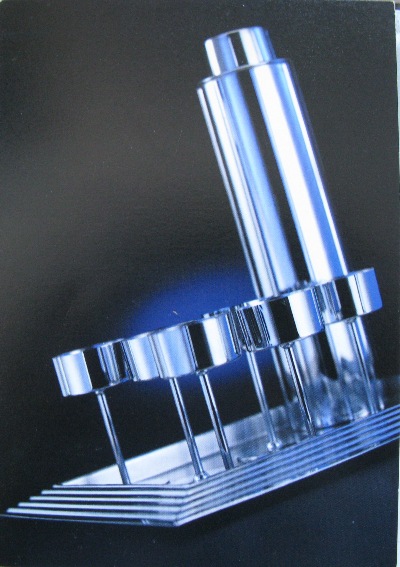 "IMAGINATION CREATES THE ACTUAL"
NBG.
NORMAN BEL GEDDES
1893- 1958

Norman Melancton Geddes was born April 27, 1893 in Adrian, Michigan and named after his two grandfathers.
As a young man, in 1914, visiting his Uncles home in Toledo Ohio, he met Helen Belle Schneider who had graduated second in her class at Smith College.
Her family called her Bel, as did her teachers and friends.When Norman and Bel started to write articles on the theater together they used the nom de plume of Norman-Bel-Geddes.

Publications began to drop the hyphens making the name Bel Geddes and after his divorce in 1932 Mr. Geddes kept the added Bel to his name.
In 1918 a fortunate circumstance brought Bel Geddes to New York to begin his notable career in theater.
The struggling artist at the age of twenty-five was pondering his fate on a park bench in Los Angeles.
He found beside him a magazine with an interview of Otto H. Kahn, the international banker was quoted as saying "Millionaires should help artists."
Bel Geddes sent a telegram requesting assistance. The next day a reply arrived forwarding the goodly sum of four hundred dollars
Bel Geddes quickly arrived in New York City with his wife and baby, and a batch of his theatrical sketches.Mr. Kahn,who was then president of The Metropolitan Opera, gave the young designer entree to officials of the opera andthesubsequent designs for three productions by Bel Geddes attracted the interest of Broadway producers.
His settings for the Broadway production of The Miracle, in 1923, was declared a major spectacle of the New York Stage with
four front page reviews in the papers praising his astounding achievement.
Bel Geddes had turned the whole inside of the theatre into a Cathedral as a setting, theatre seats becoming church pews, the stage becoming the alter.
In all he designed more than two-hundred productions, many of them studied today in colleges World wide, among them; The School for Scandal,Ziegfeld Follies, and produced as well as designed Dead End, 1935.
In 1927 Bel Geddes opened the first industrial design studio. It was a working relationship between artist and industry.

He pioneered and promoted industrial design. Bel Geddes considered "the stirring beauty of airplanes" an emotional response to their functional forms.

Applying aerodynamic principals to his designs, He was often called the "Father of Streamlining". His partners were Worthen Paxton, Earl Newsome,and his second wife, Frances Waite.
Bel Geddes was so famous for his theater designs and lighting he was hired as design consultant for the upcoming 1933 Chicago Century ofProgress Exposition, He submitted many designs for buildings at the fair, including; an open-air Cabaret with dance floor, seating 2,250 people inthe middle of a lagoon surrounded by the new Fluorescent light tubes. And an underwater aquarium restaurant to be built across a lagoon forminga dam with waterfall running over the enclosed diners. The interior walls were to be made of glass tanks containing fish and plant live.

And an aerial restaurant of three levels revolving atop a 278 foot stem with seating capacity of 1500 persons.
The economic situation starting in 1929 would prohibit construction and many of his plans were never produced.*

He published a book, Horizons, of designs and ideas for the fair, a manifesto for Modern streamlining which promoted a series of futuristic designs for buildings and transport systems; a floating airport terminal in New York Harbor, a V-winged airliner with gymnasium, dining room and dance floor that would carry over 600 people. There were streamlined motor cars and trains, an ocean liner with a sliding shell that wouldcoverall open decks in bad weather.


In Chapter 13 "In Window Display the Play's the Thing" is the fascinating story of Bel Geddes walking down Fifth Avenue in NYC in 1927. The store windows filled chockablock with merchandise on display. And why not, that's what window displays were for, to show off the items for sale offered in the store.
Bel Geddes saw the window as a stage and asked Mr. George Simon of the Fifth Avenue department store of Franklin-Simonif he might try his hand on window decorating.
His display consisted of just three articles of merchandise, and had the most unexpected result. A bust wearing an Agnes turban,with a scarf of chartreuse green, occupied the center of the stage. A hand bag in a matching color lay on the platform whichsupported the bust. Hidden spotlights lit the "stage".
Shoppers stopped and looked. They crossed over from the other side of Fifth Avenue. On one occasion the crowd swelled tosuch a degree that police had to be called out to clear the way. The next week Bel Geddes did another window with the same results.

A few weeks later all the stores along the Avenue were decorating their fronts in the same style, much as they are today.
Bel Geddes starts off in Horizons with these words; "In the perspective of fifty years hence, the historian will detect in the decade of 1930-1940 a period of tremendous significance….when new aims were being sought and new beginnings were astir.Doubtless he will ponder that,in the midst of a world-wide melancholy owing to an economic depression, a new age dawnedwith invigorating conceptions and the horizon lifted."

He was now one of the most famous designers in America, if not the World.

The July 1935 issue of the National Record announced; A New And Significant Type Of Partnership, when the famous architect, George Howe, joined the NBG firm. " The purpose to provide domestic or commercial building owners with a broad survey of mechanical and architectural trends for the consideration….. With a fresh outside point of view…." The firm offered services in the following

categories of design;

Consumer research; Engineering; Production; Merchandising; Architecture- domestic, commercial, industrial, theatrical, and landscape.

Exterior and interior illumination; Household and mechanical equipment; Decoration; Furniture; Accessories;Merchandising display; Railway equipment; Ships;, Yachts; Motor cars;, Airplanes; Theatrical Production, Settings;, Stage lighting, & Stage direction.



The NBG & Co. list of clients and designs in the 1930's included;



General Electric; the first refrigerator without a motor on top

Standard Gas Equipment; the first all sheet-metal all white enamel cooking stove.

Designs for Radio City Music Hall at the request of Raymond Hood.

Chrysler Motor Co. restyling the Plymouth

Pan American Airways; interiors for the China Clippers. Provided for the first time in any

Aircraft; comfortable berths, lavatories, hot and cold running water, bar, & kitchen
Electrolux Corporation; a vacuum cleaner.

Revere Copper & Brass. Gift ware designs.
Columbia Broadcasting System.. a microphone.
Firestone Rubber Co. the first puncture-proof automobile tire.



We have to stop right here in 1935, the list would be pages and pages long.



His designs of grandeur would come to realization in 1939, with the World's Fair, and the General Motors Highways and Horizons Exhibit that occupied approximately seven acres. A building called Futurama contained The City of Tomorrow.

And five-hundred and fifty two 'sound chairs' would carry visitors on a one hour trip for a third of a mile on several levels. A transcontinental flight over America, twenty years into the future, in the year of 1960! The Futurama contained 500,000 scale model houses and 50,000 small scale automobiles, of which 10,000 were in actual operation over super highways.

The General Motors Pavilion was the most popular exhibit at the fair, attracting over ten-million visitors.

Bel Geddes published a book after this World fair also. His Magic Motorways which laid down the pattern for future super highways.

The book is dedicated "To the fifty million young Americans of the generation of our grandchildren to whom all that is written here will be commonplace."



The Bel Geddes star would never shine as bright as it did in 1939. He was to old to join the fighting in the World War but helped

in the war effort by designing; a new self-camouflage technique for the United States Army, radio-controlled model aircraft for Strategic Command Army Air Force, model-photography maps& self- inflating airborne targets for the United States Navy.



After the war ended his designs included; a jukebox for Lion Manu. Co. , a line of radios and the trade mark for the Federal Telephoneand Telegraph Company, Motor boats for Gar Wood Industries, a Coco-Cola vending machine for Mills Industries, Jewelry designs, & a cigarette vending machine for Rowe Manu. Co.



Bel Geddes started the first draft of his Autobiography in 1957. He died of a heart attack Thursday May 8, 1958 in the University Club, 1 West Fifty-Fourth Street in New York City. He was 65 years old. He suffered the seizure while lunching with a friend, and had a heart ailment for several years.



Bel Geddes was married four times. His second wife, Frances Waite of Cincinnati, often said to be the love of his life, died a few years after their marriage. His third marriage, to Mrs. Ann Howe Hilliard of New York ended in divorce.

And at the time of his death he was survived by his fourth wife, the former Edith Lutyens, also a stage designer-producer, and two daughters by his first marriage, Barbara and Joan.


*A structure resembling the aerial restaurant was built for the 1964 Worlds Fair in New York
END

A BEL GEDDES STORY.......

Here, Dotorow is describing the exit phases through the General Motors sponsored Futurama exhibit designed

by Norman Bel Geddes-- from his wondrously evocative novel set in the Great Depression, World's Fair.
And then the amazing thing was that at the end you saw a particular model street intersection and the

show was over, and with your I HAVE SEEN THE FUTURE button in your hand you came out into the sun

and you were standing on precisely the corner you had just seen, the future was right where you were

standing and what was small had become big, the scale had enlarged and you were no longer looking down

at it, but standing in it, on this corner of the future, right here in the World's Fair!

That dazzled me. Perhaps it might only have been the sudden passage from darkness to daylight, but I

actually wobbled on my feet. I had the feeling that I too had changed size, and it only lasted a moment

but it was quite strange. It alerted me to the sizes of everything at the Fair. Norma took us to the Railroads

Building. We sat in an auditorium facing a stage with a scenic diorama of O-gage trains and locomotives rolling

through hills and valleys and over rivers and through cities. So we were big again."



NORMAN BEL GEDDES BOOKS

MORE READING ON NORMAN BEL GEDDES:

A FANTASTIC BOOK WITH A REVELATION ON EVERY PAGE. JUST AMAZING.

DESIGNING MODERN AMERICA , BROADWAY TO MAIN STREET

by Christopher Innes. published 2005. you can find on Amazon.com , used $3.95, new, $41 or Kindle $9.95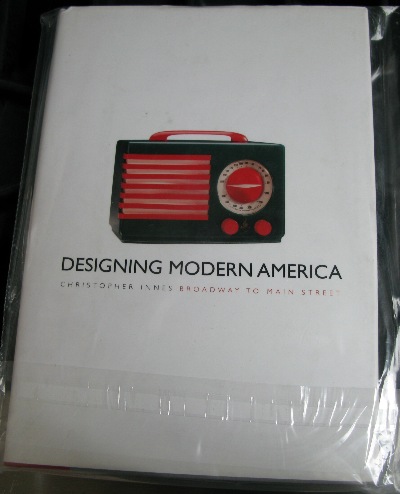 HERE'S A REVIEW FROM THE AMAZON.COM WEB SITE.


Editorial ReviewsReview "To trace the genesis and influence of Urban and Bel Geddes on American culture

is to see the evolution of twentieth-century American design and its influence on the world. Innes's book

is a revelation."-Thomas F. Staley, University of Texas at Austin (Thomas F. Staley )
"Original and innovative. I know of no other book that brings Urban and Bel Geddes together to demonstrate

the specificity of their unique and quite astonishing accomplishments, their influence and impact on so many

aspects of American life."-Don B. Wilmeth, Asa Messer Professor Emeritus, Brown University, and editor


AND



MIRACLE IN THE EVENING

The Autobiography Of One Of The Most Brilliant Stage And Industrial Designers Of Our Time.

Published after his death by Doubleday, you can fnd on Amazon.com, runs from $25 to $70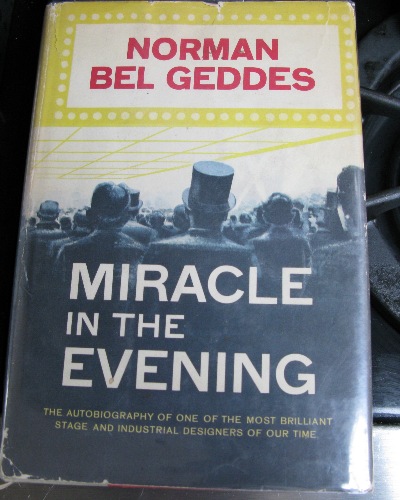 COVERS HIS TIME FROM EARLY CHILDHOOD UNTIL HIS STARTLING THEATHER DESIGN SUCCESS

IN 1923 WITH THE MIRACLE directed by Max Reinhardt on Broadway.

AND..

HORIZONS IN INDUSTRIAL DESIGN

by NORMAN BEL GEDDES

"A GLIMPSE into the NOT FAR-DISTANT FUTURE, a future that will see many if not all of our

present notions of form cast into the discard --when, through the influence of new design, most

of the features of our everyday life will take on new aspects for the greater economy, efficiency,

comfort and happiness of our lives"

FROM THE FIRST PAGE;......."In the perspective of fifty years hence

, the historian will detect in the decade of 1930-1940 a period of tremendous significance.

He will see it as a period of criticism, unrest, and dis-satisfaction to the point of disillusion

- when new aims were being sought and new beginnings were astir.

Doubtless he will ponder that, in the midst of a World-wide melancholy owing

to an economic depression, a new age dawned with invigorating conceptions and the horizon lifted."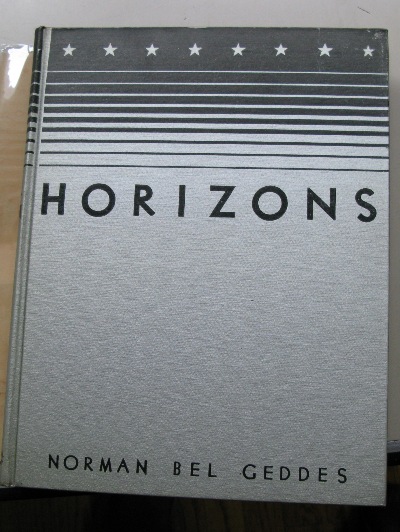 PUBLISHED IN 1932, selling for $4.75, reprints on amazon.com $22 in paper back.. ORIGINALS $108 to $400 hardcover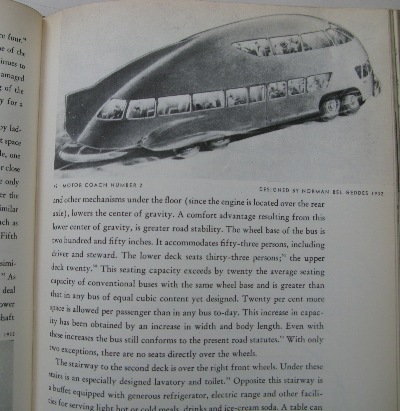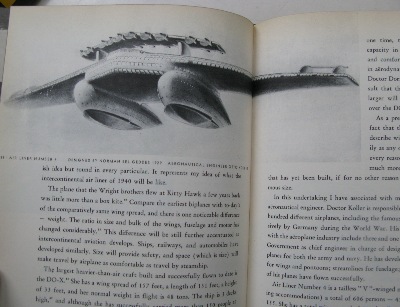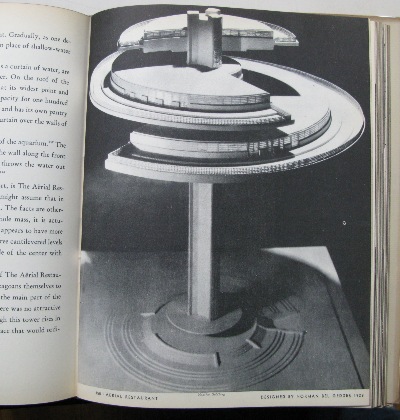 ANOTHER WORLD'S FAIR; ANOTHER BOOK.Norman Bel Geddes (1896-1958),

a pioneer industrial designer and futurist who was famous in his day, had his

fingers in many pies, as this Wikipedia entry suggests.

One of his largest projects -- perhaps his most famous -- was his huge model

of how the United States might look in 1960, 21 years from the time it was

created for General Motors' Futurama exhibit at the 1939 New York World's Fair.

Being an automobile manufacturer, General Motors was interested in creating

interest in and even enthusiasm for systems of high-speed highways that would

make owning and using cars even more attractive. It's a look into the future 20 years hence.

1960. Five million people saw the Futurama of the General Motors Highways and Horizons

Exhibit at the New York world's Fair during the summer of 1939.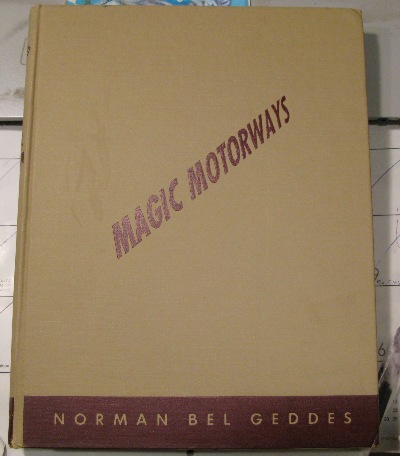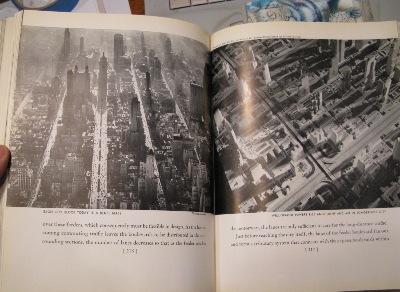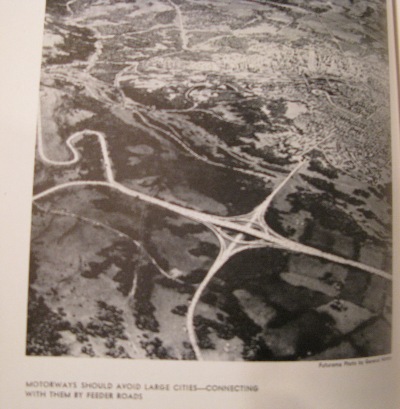 THE TURNING WHEEL, by ARTHUR POUND WITH BEL GEDDES

DESIGNED MEDAL ON THE COVER, published 1934, Doubleday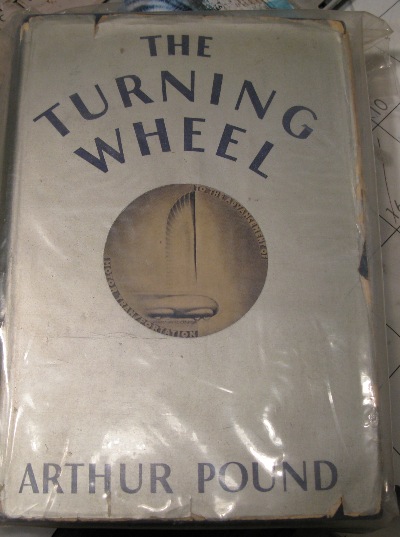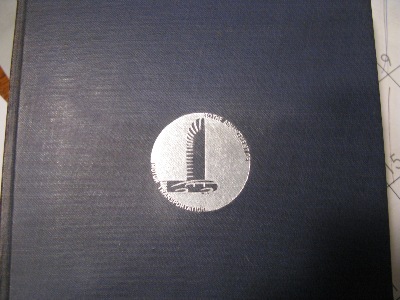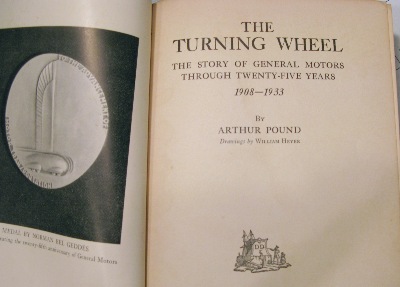 http://ansmagazine.com/Winter04/Monuments3

http://www.metmuseum.org/toah/works-of-art/33.150.1,2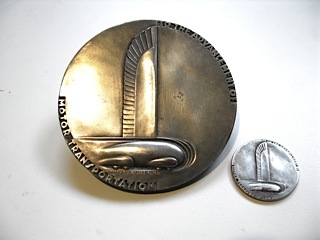 MORE ABOUT THIS MEDAL UNDER; MANHATTAN COCKTAIL SET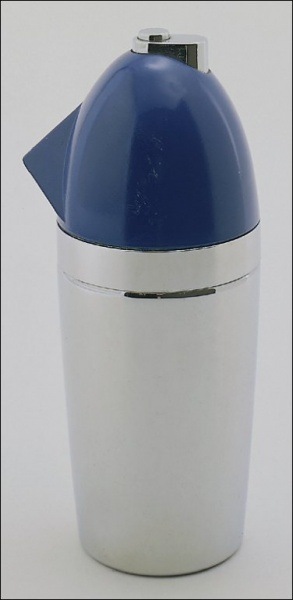 NORMAN BEL GEDDES SODA KING SYPHON for WALTER KIDDE SALES CO.


Des. 112,535

Norman Bel Geddes & Worthen Paxton

Soda Syphon for Walter Kidder Sales Co.

Stamped on the underside; "Walter Sales Co. Inc. Bloomfield N.J. Soda King Syphon. Designer Norman Bel Geddes"
Worthen Paxton was a partner in the Bel Geddes firm and as the designer of the soda siphon, in the usual procedure, received acknowledgment on the registered patent.
Walter Kidder was the perfect company to manufacture soda siphons; they are to this day major manufacturers of pressurized fire extinguishers.
Reference, shown in;
The Machine Age in America 1918-1941, The Brooklyn Museum, Abrams...page 329
Vintage Bar Ware, Collector Books, page 92-93
American Modern 1925-1940, J.Stewart Johnson, Abrams. Page 99
Phillips, Pioneers of American Modernism, NY852 page 99

More on Norman Bel Geddes & Patents
1893-1958
When the Bel Geddes firm designed for clients such as; Toledo Scale, Simmons, Standard Gas, Electrolux, Columbia Broadcasting System, General Motors, or Revere Copper & Brass, the clients would usually apply for patents.
Designing for themselves, either for speculation, public relations, a magazine article or a fantasy design, the Bel Geddes firm, more as not would apply for their own design patent.
Bel Geddes held, in 1933, design patents on the first streamlined train, ocean passenger liner, and automotive vehicle; the latter looking very much as the SUVs of today. Also a floating rotary landing field for passenger aircraft, to be placed in New York City Harbor, that would automatically assume the proper position to accommodate the prevailing winds, as well as the first flying wing; an Aeroplane that could cross the Atlantic with 600 passengers, complete with a dance floor, gymnasium, library, dining rooms and a solarium, with a range of 7,500 miles.
Bel Geddes* knew something about applying for patents. A lesson learned the hard way. In 1919, while working for the producer and theater owner Winthrop Ames, he designed the first combined focus and flood stage spot light; A thousand watt light bulb enclosed in a box with a lens opening that could be adjusted by either opening the camera type lens or by moving the light bulb closed or further from the lens opening.
After a demonstration, of this astonishing invention for Mr. Ames, Bel Geddes was hired to redesign the electrical systems and lighting of both The Little Theatre and the larger Booth Theatre on Broadway, changing forever the way stages and then movies were lighted. The electrician, Johnnie Higham, who constructed the Bel Geddes designed lights, then went into business under the name of Display Stage Lighting; soon to become the successful and prosperous Century Lighting Company.
The young boy genius of Broadway, who never thought of acquiring a patent, later said without any sign of rancor, that he had only the satisfaction of knowing that he made the whole thing possible. **


*When Norman Melancton Geddes married Helen Belle Schneider, in April of 1916, who everyone; her parents, teachers, friends, and Norman, called "Bel"; he in her honor started to sign his name for the first time as: Norman Bel Geddes. They also wrote articles on stage design and lighting for which they used the same single name. Later when they were divorced Norman continued using the designation.
** Ref; page 199 Miracle in the Evening, Norman Bel Geddes, Doubleday & Co. 1960