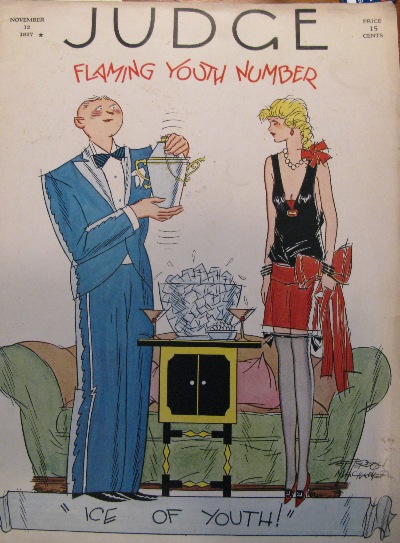 JUDGE MAGAZINE NOVEMBER 12, 1927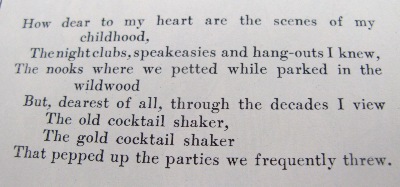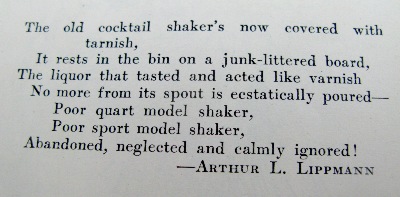 Vintage Cocktail Shakers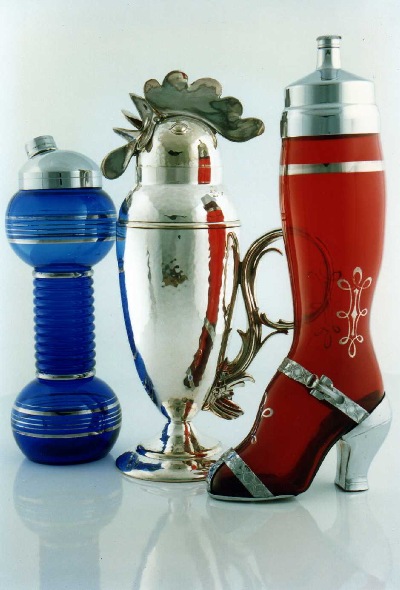 Gleaming with sophistication and style, vintage cocktail shakers, an original American invention and usable work of art, define American Art Deco design. These elegant cultural artifacts are one of today's most valued collectibles.



Like many vintage buildings saved from destruction by landmarks preservation committees of today, these micro-skyscrapers that once sat upon the blue glass plains of 1930's cocktail tables are being saved for the enjoyment of future generations. Form and function never had a better mix.



Cocktail Shakers; the words conjure up visions of glamour and elegance. Seven hard shakes over your right shoulder and you can travel back in time, back to the splendor of Hollywood movie sets, with Fred Astaire and Ginger Rogers, luxurious hotel lounges with gleaming chrome, or watching William Powell instruct a bartender on the proper way to shaker a martini in The Thin Man movie of 1933. A few more shakes and you're in the world of F. Scott Fitzgerald and The Great Gatsby, standing around, martini in hand, with tuxedo-clad sophisticated folk, millionaire-suave, mouthing cocktail party gossip.



As an original American art form cocktail shakers reflect the changing nature of the various styles of art, design and architecture of the era between the two Great Wars. We see the graceful lines of Art Nouveau in the early 1920s being replaced by the rage for jazzed geometric moderne design. This geometric cubism of Picasso, that influenced so many designers, was then replaced by the craze for Streamline Design in the 1930s.



Cocktail shakers were taking the shape of the new deity of American architecture, the Skyscraper, both giving the appearance of movement and speed in a slow economy. They were here to penetrate the gloom of the Depression, ready to propel us into the future of prosperity like some buck Rogers rocket ship. Both perfect symbols of generative power of our perpetration into better times ahead. Cocktail shakers and architecture took on the aerodynamically sleek industrial design of the automobile and airship. It was as, Norman Bel Geddes said, a quest for speed. All sharp edges and corners ere rounded off, even the sharp notes of Jazz music into Swing.



The day of the cocktail shaker ended as did the Depression gripping America on December 7, 1941 and our involvement in World War Two. Companies that once made cocktail shakers now made artillery shells. All metal went to the war effort. After the war few thought of the shakers, we were in the atomic age, thinking of jet-propelled aircraft, a thing called television and new cars with lots of chrome.



After waiting almost a life time to be recalled to life, as Dickens' Doctor Manette in A Tale of Two Cities, the cocktail shaker with the turn of the Millennium cocktail craze is again a symbol of elegance.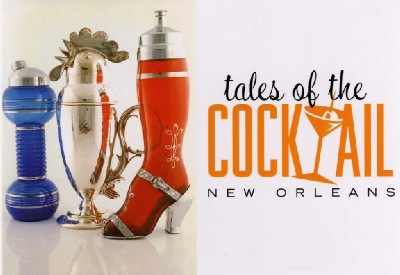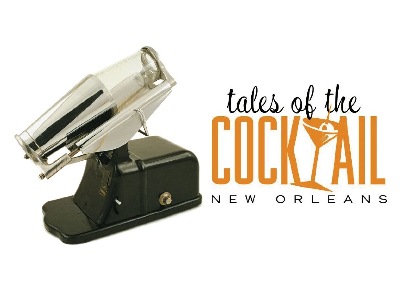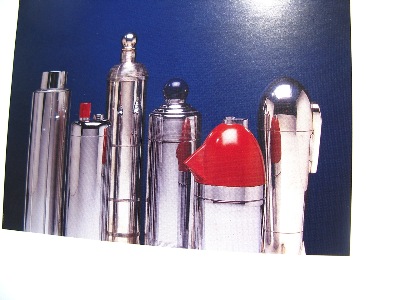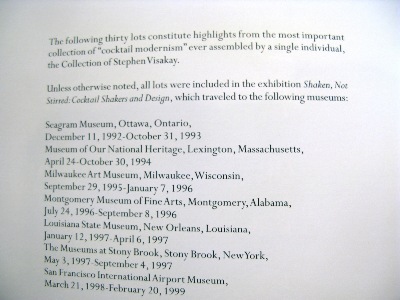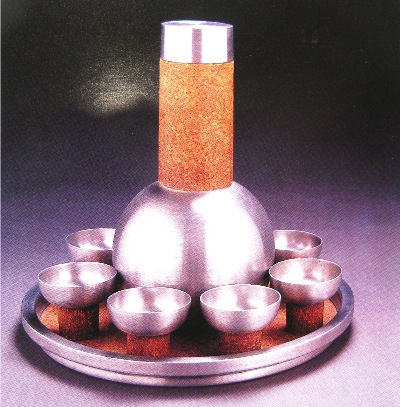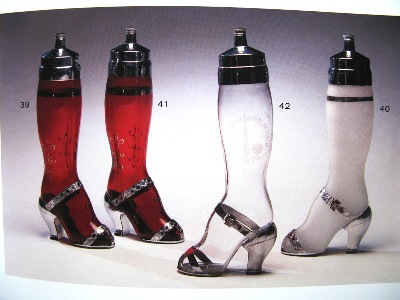 DEPARTURES MAGAZINE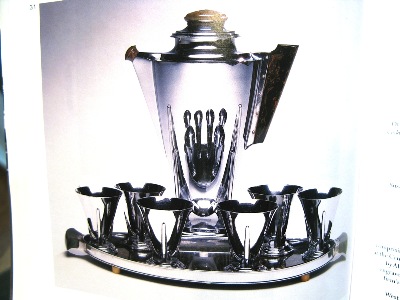 Shaken Not Stirred
By Evan McGlinn
Sep-2004

A new generation develops a taste for vintage cocktail shakers.


Fourteen years ago Stephen Visakay was making his usual Saturday-morning rounds at the outdoor flea market at Twenty-sixth Street and Sixth Avenue in New York City. "I was known as the crazy guy who collected cocktail shakers," he says. After checking in with his usual suppliers, he came across an interesting silver-plated piece that he knew he had to have. "It was much more than just a shaker," recalls Visakay, "it was a museum piece." Made in Germany in 1928, the mixer was a mini traveling bar in the shape of an airplane. The wings were flasks, the fuselage housed two decanters and doubled as the shaker, the nose cone served as a strainer, the wheel well held four spoons, and the tailpiece stored six small cups—23 pieces in all. Visakay successfully bargained the guy down from $6,000 to $4,000. "As I was counting the cash, he kept gloating, telling me that he'd found it at a tag sale for twenty dollars." Visakay got the last laugh, though. In June 2001 he sold the airplane at Phillips auction house in New York for a record $48,300, along with 28 others that brought in an additional $200,000.


Visakay, whose collection now totals more than 900, says the market is more popular than ever thanks to the increased interest in 20th-century decorative arts. The new vogue for mixed drinks—from the Cosmopolitan to the Saketini—has also added to the demand, he points out.

As the leading expert on the history, design, and prices of cocktail paraphernalia, Visakay has done his share to fuel the buzz. His Vintage Bar Ware: Identification & Value Guide (Collector Books, 1997) is a bible for enthusiasts—many of whom spend small fortunes pursuing their hobby. "I sold my Chevy Suburban to buy my first collection," says Simon Khachadourian, owner of the Pullman Gallery in London, who snapped up Visakay's airplane shaker at Phillips and vows he'll never sell it. Today it is among 1,000 or so examples of vintage barware at the gallery.

And while the airplane is off limits, what Khachadourian's gallery does have for sale is just about every top vintage shaker a person could want, among them two smaller airplane sets—one with a nine-inch wingspan for $17,600 and one with a 12-inch wingspan for $26,900. There is also the 1930 Asprey "Thirst Extinguisher," which looks like a fire extinguisher ($10,200), and a selection of other shakers fashioned like dumbbells, lighthouses, golf bags, zeppelins, and even penguins.

Cocktail shakers were manufactured as far back as the late 19th century but didn't really become popular until Prohibition, when people began mixing fruit juices into drinks to mask the taste of bathtub gin. Because drinking was illegal, companies such as the International Silver Company of Meriden, Connecticut, and Gorham of Providence started disguising them as everything from women's boots to baby's rattles. Ironically, it was the end of Prohibition, in 1933, that propelled the cocktail shaker from useful accessory to full-on icon status. In those heady years of newly legal drinking, the cocktail hour was forever being glamorized on the silver screen. The thirties classicsThe Thin Man and After the Thin Man are perfect examples: William Powell and Myrna Loy knock back drinks and toss off such memorable lines as "Let's get something to eat, I'm thirsty." But the craze didn't last long—at the start of World War II, a lot of companies stopped making shakers and shifted production to the war effort.

Although some collectors have spent upwards of $300,000 on their collections, "you can still get into the game for a few hundred dollars with ease," says Khachadourian, noting that many of the glass shakers are relatively inexpensive. New York galleries like Mood Indigo and Deco Deluxe specialize in barware at all price points and there is an increasingly healthy market on eBay, according to James Zemaitis, senior vice president and director of 20th-century design at Sotheby's in New York. In fact, 286 listings for cocktail shakers—many under $100—turned up on a recent eBay search. A late-thirties silver-plated shaker, made by London's Maple & Co. to resemble a church bell, went for $426.

In May, Phillip Arth, a 65-year-old California collector with 240 shakers, says he, sadly, lost his bid on eBay for a 1926 sterling-silver shaker with six cups made by Maison Desny of Paris. It ended up fetching more than $25,000. Undeterred, Arth plans to keep hunting. "I like thinking about the history behind these things and all the good times people had while using them."


Stephen Visakay

www.visakay.com