The Hudson River Valley has a rich history of earthenware and stoneware production from the 17th to the early 20th century. It was, in fact, one of the primary pottery producing areas of the country. Natural resources were easily available; banks of red clay lay along the river, and there was timber to fuel the kilns. Wares were effortlessly distributed up and down the river and canals. This is the true and curious story of one of the most famous and yet unknown Hudson River Valley potteries.



White Cloud farm Pottery Company began life in the early 20th Century and lasted for almost 40 years. It was the originator and designer, in 1928, of a well-known drinking vessel produced to this day, and yet there is little information about it to be found in pottery books*, and there is not a trace of the pottery, kilns, house, or even the road that bordered the pottery. It's as if it were wiped clean from the maps, gone from history without a trace.



I have been searching for over 20 years for any word of the White Cloud Farm pottery company. I have visited local libraries, town halls, and record rooms. I have bought pottery book after pottery book and found only a sentence or two about the company. I've hired genealogy and search companies that boast? We can find anyone, we can find missing persons," hoping to find a relative of one of the owners; it was all without fruition.



Even one of the most comprehensive books on the market, Lehner's Encyclopedia of U.S. Marks on Pottery, Porcelain & Clay by Lois Lehner, lists only the potter's mark of an apple with the author's notation: "I would give a great deal to have the whole story. Information was very scarce. The listing in the 1931 and 1932 Newburgh, New York, directories was for the White Cloud Farms, fruit growers, poultry raisers, and pottery manufacturers on Rough Ride Road. They were not listed in directories before or after those two years." (There is apparently an error in the Newburgh listing. The house was at the intersection of Ridge and Weed Roads. No matter, you will not find that address on any map today either.)



It took the Internet and its long reach to unearth the story. I started to subscribe to genealogy sites, leaving pleading message after message on the bulletin boards. One day last year from one of the sites, and maybe with help from above, I was put in contact with Gene Bacher, the son of Holland Robert Bacher, president of White Cloud Farms.



All too often designers, artists, and craftsmen remain unknown and fail to receive the credit and accolades they rightly deserve and are lost to future generations. It's with the kind and generous help of Gene Bacher that this story comes to light.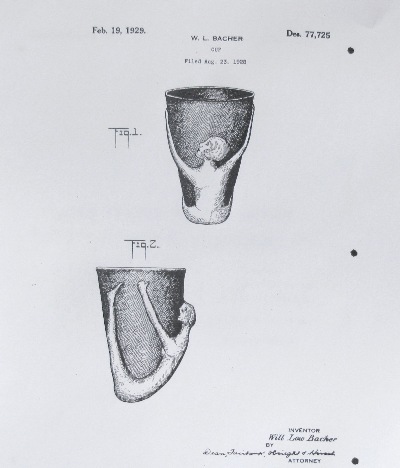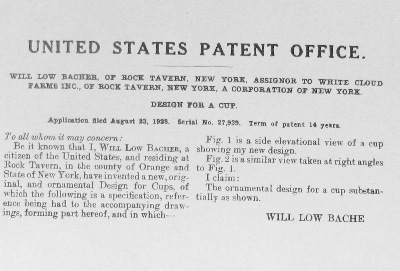 WHITE CLOUD FARM



Of the hundreds of items produced by White cloud Farm, it is most famous today for the design of a naked flapper. She's draped over the bottom of a drinking cup, arms and legs spread wide, her bottom up. The cup can't sit upright because of the rounded bottom, only upside down on the rime. If using the cup, you need to finish your drink before setting it down. Bottoms up – a double entendre.



Ask any Depression glass collector, any antiques ceramic, or Art Deco dealer; we've all seen her, held her in our hands, and wondered bout her life. Here then, for the first time, is the curious story of the most famous unknown pottery company in America and a naked flapper.



The story begins a generation before her creation with one of the early Impressionists in American art, Otto Henry Bacher. Born in Cleveland, Ohio, in 1856, Bacher had his early training in Cincinnati and then became a student in Munich, Germany, where he studied in the late 1870's. He studied at the Academie Julian in Paris with Boulanger and Lefebvre and with Frank Duvbeneck in Bavaria. In 1880 he traveled to Venice and formed friendships with James Abbott McNeill Whistler and Henry James. Bacher became an apprentice of and a collaborator with Whistler, who described him as one of his favorite pupils; Bacher would publish the book With Whistler in Venice in 1908. Today his paintings and etchings hang in major American museums and were included in the traveling exhibition Whistler and His Circle in Venice.



In 1885 Bach settled in the art colony of Lawrence Park in Bronxville, New York, with his wife, the former Mary Holland of Cleveland. Mary had been a student of Otto Bacher while he was teaching at the Cleveland Academy of Art. They resided at 5 Lookout Avenue in a house designed by the architect William Bates, who also lived in Bronxville. The hilltop house, with commanding views across the village, was filled with light at almost any point in the day and with good northern light most of the day; it was perfect for Bacher's large studio.



It was a planned upscale community, a non-urban environment close to the amenities of New York City. It was geared to the artistic elite of the time: painters, sculptors, artists, authors, writers, and poets. Residents were there only by invitation of the builder, William Lawrence, and included the author Elizabeth Custer, wife of the late Indian fighter, and a few Wall Street moguls and lawyers. It was a society where friendships and connections were formed that would last a lifetime and beyond.



As an illustrator, Bacher was much sought after and did work for Scribner's, McClure's Magazine, Century, and other magazines. He was one of the founding members of the Society of Illustrators in 1901, and that same year won a prize at the Pan-American Exposition in Buffalo, New York.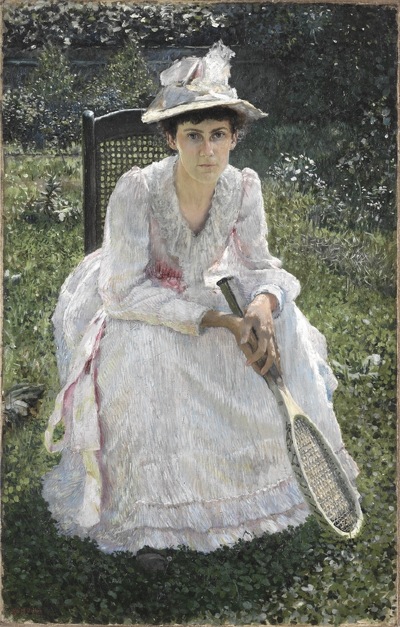 MARY HOLLAND BACHER, Oil on Canvas 1891, by OTTO BACHER, Cleveland Museum of Art, Gift of Will Low Bacher




Four sons were born to Otto Henry Bacher and his wife Mary Holland between the years 1890 and 1898. They were Holland, Otto, Eugene, and Will Low. Will Low Bacher was named after one of the community residents and Otto's dear friend, the muralist Will Hicok Low. Otto Henry Bacher died in Bronxville in 1909;



In 1917 widow Mary Holland Bacher moved the family 65 miles north to bucolic Rock Tavern, New York, in Orange County. It was not much more than a mail drop. Rock Tavern is named after a pub dating back to the 1700's, a large boulder forming part of its foundation. Rock Tavern is not a town, only a hamlet of the much larger New Windsor. Census figures at the time listed a combined population of New Windsor and its three hamlets at 2,984. The current population is approximately, 27,000. - Bucolic still by any definition.



Mary purchased an apple farm, a good place away from the city for her four sons to grow up. The name White Cloud Farm reflected optimism and a new beginning. The farm comprised 125 acres, 65 planted in apples. There were Rome Beauties, Red and Golden Delicious, Red Wealth, and McIntosh. The farm also had all the planted produce and full complement of livestock – horses, cows, pigs, and chickens, - that accompanied a self sufficient farm. A fortuitous acquisition for the next decade with the stock market crash and ensuing depressed economy.



The four boys grew into manhood, working on the farm and going to school. Holland studied at the University of Illinois and graduated with a degree in ceramic engineering. Eugene studied agriculture at the University of Illinois; Otto Devereux studied theater in New York, while Will followed in his father's footsteps and studied art in Europe.



In the 1920's, while two brothers, Otto and Eugene, ran the apple orchards, brothers Holland and Will constructed kilns and began the pottery company. Holland, with his degree in ceramics, and Will, as artist and designer, made an exceptional team.



They produced art pottery, first in black, white, or matte green, and then in all colors. Helene Ayres, wife of Holland, joined in as decorator and hand painter. There were bird figurines, bowls, dishes, platters, dinnerware, pitchers, vases, wall pockets, face mask wall plaques, tiles, tea sets, and more. The name White Cloud Farms Inc. encompassed both orchard and pottery enterprises.



The naked flapper was born in early 1928 when White Cloud Farms produced the now famous Bottoms Up cups, designed by Will and brought to life by his brother Holland. Draped over the bottom of the upended cup, the matte green nude flapper was just the thing for he shake, rattle, and pouring late 1920's.



The Bachers applied for a design patent on August 23, 1928; the required sketch prudently showed only two views. She was legitimized six months later by the granting of patent number D 77,725 on February 19, 1929. The patent would be in force for the next 14 years.



White cloud also applied to trademark the name "Bottoms Up" on September 10, 1928. It was granted February 12, 1929, and applied to the production of earthenware drinking cups in Class 30 Crockery and called for "the trademark (to be) applied to the goods by pasting thereon a label bearing the mark."



It was not long before the nude flapper cups came to the attention of the giant McKee Glass Company of Jeannette, Pennsylvania, in business since 1853 and a large producer of economical kitchenware: bowl sets, dinnerware, platters, covered refrigerator containers, and the like. Its catalog also offered crystal products and a few arty items: an art nude vase, an art nude table lamp, and pen and ink desk sets. McKee dearly loved the swell little nude flapper; she would fit right in. It began to manufacture the spread-eagle nude flapper in a variety of colors.



Naughty art pottery by a small unknown company was one thing, but this copy by a mass-producing major manufacturer was something else. First, there was a loud outcry from the Catholic Legion of Decency, whose powers were well known to all, especially the motion picture industry. Second, McKee quickly found out it was not dealing with some cabbage patch kids that had just fallen off the turnip truck. There was the pressing matter of an impending lawsuit for patent infringement by White Cloud Farms Inc. and its New York City attorneys.



The wealthy McKee Glass Company easily solved both problems. First, with a handsome offer that one just could not refuse, it purchased all patent and trademark rights from the Bachers. And, thinking the nude flapper was a tad risqué for national audiences and advertising campaigns, it closed up the legs of the nude flappers on future cups.



McKee commenced production in six colors; proudly stamping the patent numbers below the woman's closed legs. It became the perfect bridge party prize, in single boxes or in sets of four. It seems that White Cloud Farms retained the rights to also manufacture the naked flapper with closed legs, as both designs in pottery are found today. This is not counting all the reproductions from California, Japan, and Mexico in the following years. Punch up "bottoms up" on eBay, and you'll see what I mean. The United States is now facing an invasion from Mexico by Bottoms Up cups.



Later, White Cloud added a martini pitcher to the Bottoms Up line, with the stopper in the form of the top half of the naked flapper. It looks like production of this line ceased in the late 1930's.



The small pottery company, successful from the start, would stay busy for the next few decades, perhaps with a little help from old-time Bronxville connections. When Rockefeller Center was completed in New York City in 1934, it contained a permanent exhibition of decorative arts and crafts featuring White Cloud Farms products.



White Cloud also produced mosaic street signs for the New York City subway system, tiles for the American Airlines terminal in New York International Airport (now John F. Kennedy International Airport), tiles for the reflecting pools atop the Parke-Bernet Galleries, America's largest fine arts auction house at the time, a 4' x 4' mosaic Texaco star emblem, and mosaic clock faces with the Texaco star, as well as ceramic table lamps and tile-topped end tables.



The White Cloud Farm Pottery products had a maker's mark of an apple with stem. Items that could not be marked easily, such as lamps with felt bottoms, had gold label depicting a farm scene with trees and a white cloud.



Holland Robert Bacher, President of White Cloud Farm Pottery, and called Bob by one and all, with his ceramics expertise, was especially good at glazes. Today, son Gene Bacher said that during the war years, his father recalled that "he knew something was up" 9the atomic bomb as it turned out) when he could no longer obtain uranium, which he used in one of his red glazes. Unfortunately, the formula for his glazes did not survive on record.



The pottery building at White Cloud Farms burned to the ground in 1945. Like many pottery structures of the time, the timbers became dried from the intense heat of a burning kiln and were easily combustible. Rebuilt in 1947 with three large oil-burning kilns, the company continued operations until 1957. The orchards had ceased operations three years before; the trees were getting older, just as the Bacher brothers were.



In 1968 New York's Governor Nelson A. Rockefeller had the inspired idea of converting the small nearby Stewart Airport into an International airport serving New York City and its environs. Most of the local citizenry was opposed to the expansion. Some really poor sports pointed out that the new modern airport with increased runways would be just 90 miles south of the state capitol in Albany and 55 miles north of the Rockefeller estate in North Tarrytown, a Beaux-Art mansion and home to four generations of Rockefellers, and mighty convenient for anyone living in either place.



Invoking emanate domain the state condemned 8,000 acres for the new airport. Both White Cloud Farms Inc. and Thew road would be wiped clean from the maps, and remain buried under 36 inches of crushed rock and hot mixed asphalt runway, three times the thickness of a standard asphalt highway. (A small part of Ridge Road remains.)



As a comparison today, New York's JFK Airport, with 4,930 acres, serves 289 International flights out of the total of 769 flights a day, while Stewart International Airport has but one International flight per week. So much for progress and emanate domain.



Today, the small bucolic town of Rock Tavern is fast becoming famous for the television series American Chopper shown on the Discovery Channel and featuring Orange County choppers, a father and son team who build custom motorcycles.



White Cloud Farms Inc. is still the most famous unknown pottery company in America.



· You will not find a maker's mark for White Cloud Farms in 1,000 Marks on America Pottery & Porcelain (L-W Books, 1995); American Art Pottery by Dick Sigafoose (Collector Books, 1998), Kovels' New Dictionary of Marks (Crown Publishers, 1986), which has 3500 marks; or Pottery Works; Potteries of New York State's Capital District and Upper Hudson Region (Associated University Presses, 1995) by Broderick and Bouck.



SIDE BAR

The Bachers sold tile under the name of White Cloud Faience. It was shown at the prestigious Vanderlaan Tile Company, 103 Park Avenue, New York City.

The company's brochure declared, "White Cloud Faience is handmade, porcelain, weatherproof tile. It is light in weight, very strong and is made in any dimension up to one foot square with a standard thickness of one quarter inch. It is glazed in a wide variety of colors and textures. The tile illustrated are made and decorated by hand in various techniques, resulting in a charm associated with well designed craft work."

Artist Will Low Bacher and Helene Ayres, the wife of Will's Brother Holland Robert, designed and painted the tiles, but the work was not all done freehand. To facilitate matters they used a stiff cardboard template on which the basic design was drawn. Holes were punched in it to show the outline of the design. After placing the stencil on the blank tile, it was tamped with a small round "puff" made of cheesecloth that was filled with a dark powder. This would leave the outline of the design in little dots on the tile. It would next be painted and filled in, kind of like paint-by-numbers set.

The brochure showed five sets of 12 tiles each. The Rock Tavern Tile set, in stock sizes 5 ¼" square and 4" square, was decorated with designs of flowers, birds, and fish in white slip over a dark body with blue, green, yellow, and plum under glaze over an incised design. The Pennsylvania Dutch set, stock size 5 ¼" square, had designs of birds and flowers in "typical colors used in old Pennsylvania slipware." Dutch Colonial, in stock sizes 5 ¼" square and 2 5/8" square, had designs of windmills, landscapes, and sailboats in delft blue on white and sepia on white. Dutch colonial Ships, stock size 5 ¼' square, came in blue, yellow, plum, and green on a white background. American Historical Subjects, stock size 5 ¼" square, had designs of the Alamo, Lincoln's birthplace, Independence Hall, a block house, a ship, steamships, rail cars, and the pony express in blue on white and plum on white.

The illustrated tiles were suggested for "fireplaces and hearts, furniture, window and door trim, pools, bars, kitchens, and bathrooms. These decorative designs will suggest numerous possibilities. With these tiles an old world effect or a fresh modern touch may be created." The brochure recommended solid color tiles, using glazes suggestive of precious stones or sung porcelains, in large sizes for strikingly beautiful walls and building exteriors. Other sizes, colors, or designs were made to customer specifications.

EXCERPT
We thank the estate of famed American Architect Frazier Foreman Peters ( July 20,1895-February, 1963) for this excerpt from an unpublished manuscript.

....It was then that we came to know them and it was
from apples that Bob went to pots and the ceramics that he had been
heading for all the while.
He swept out one of the two-storied empty chicken houses and started work on a kiln and mixing machinery made from Ford rear ends or whatever he could lay his hands on that was cheap and would do the job. He tested his market first by working with ordinary clay which he shaped into ashtrays, etc. and marketed locally. But ordinary clay was not to Bob's taste. He did not like the sound the pottery made from it made when it was put on the table and he didn't like its porosity because it absorbed flavors if the glaze was the least bit crazed. SO,
he dropped ordinary clay and took to china clay and made porcelain.
For porcelain, he needed two sets of furnaces, one that worked at very high temperatures, twenty-two hundred to twenty-four hundred degrees Fahrenheit to bake the china clay that made the porcelain and another furnace that operated at lower temperature to fire the glazes. Two sets of furnaces and two firings for every pot might be all right when the operation was large and done by assembly line methods, but it was not for Bob and the kind of pots that he intended to make. So, he stopped production for two years while he developed a whole new line of glazes that could be fired at the higher temperature.
It is one thing to watch and control a chemical reaction in a beaker
at room temperature and another at twenty-four hundred degrees,
especially when you can watch it only through a little peephole in the
side of a red hot furnace. But that is what Bob had to do. Put his dry
chemicals together, because they were his reactors and precipitants,
heat them to twenty-four hundred and see if they gave the color and
flake precipitate that he wanted.
He got the color, and finally, he got the flake or sheen that he
wanted.....

Thank you to Laura Blau, architect and granddaughter of Frazier Foreman Peters & Editor John Peters for this added information.

http://frazierpeters.globat.com/petershousesofstone.us/

http://frazierpeters.globat.com/petershousesofstone.us/22636.html



BELOW. Otto Bacher Drawing from a photograph by a Collier's war correspondent with the Russian Army of a Russian observation balloon making an ascension during the battle of Liao-Yang on the Russo-Japanese war front.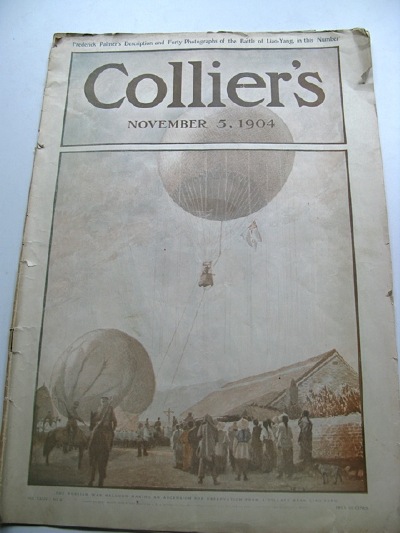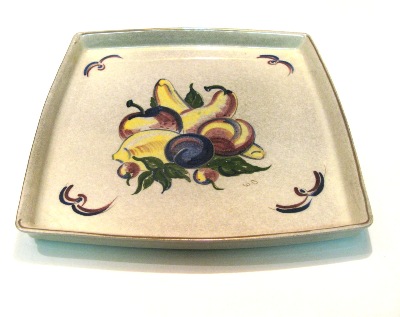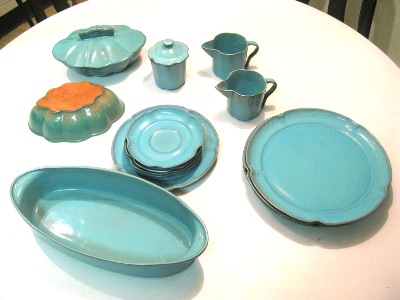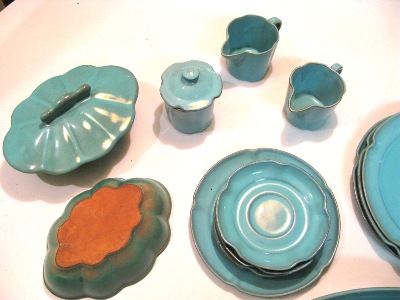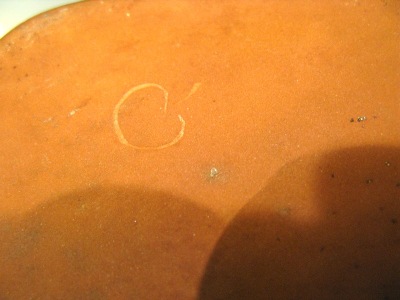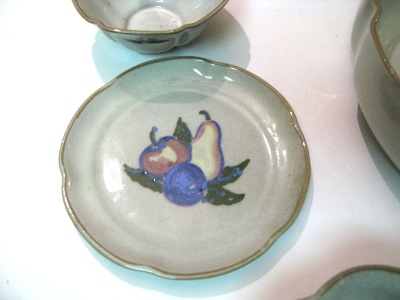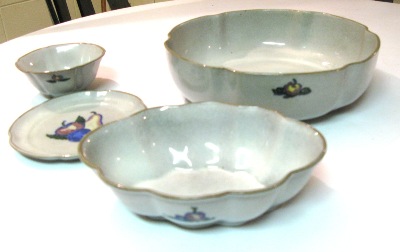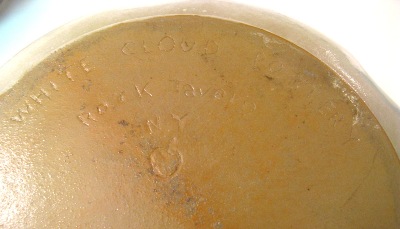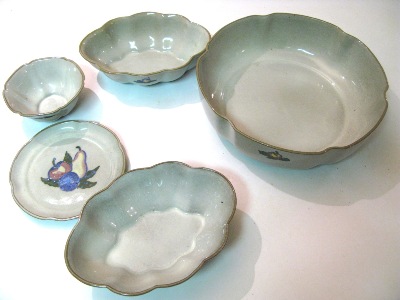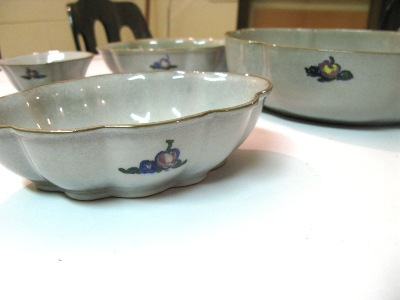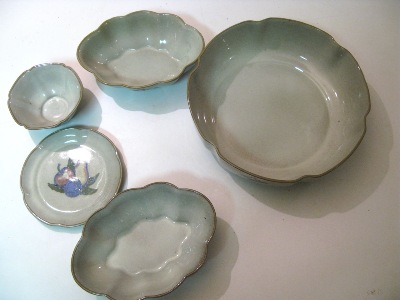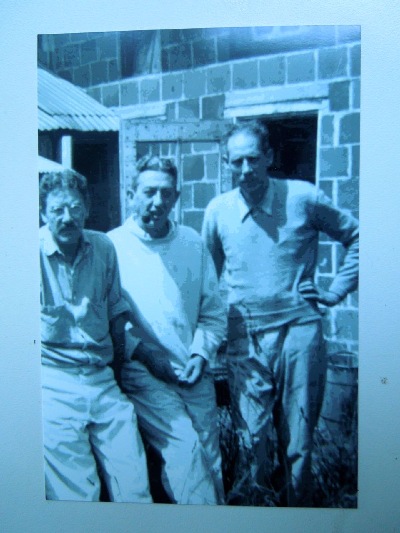 Above: Three of the Four Bacher Brothers in front of the White Cloud Farms Pottery Building, Sometime around 1940. from the Left. Will Low. Holland Robert & Otto Deveraux. Eugene David who ran the apple orchards is not shown. - a Gene Bacher Photo-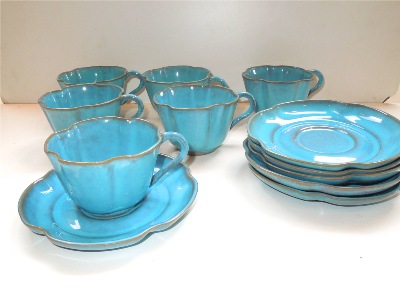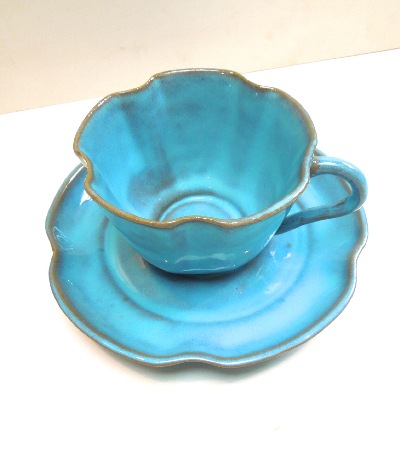 BELOW: View of the New York City Skyline. 10 inch plate by Will Low Bacher.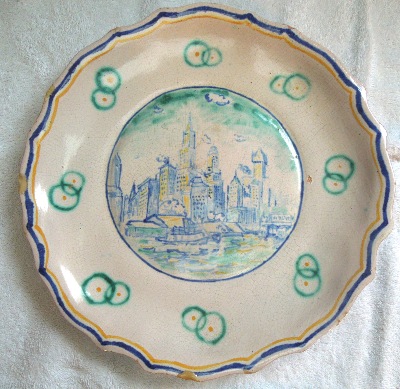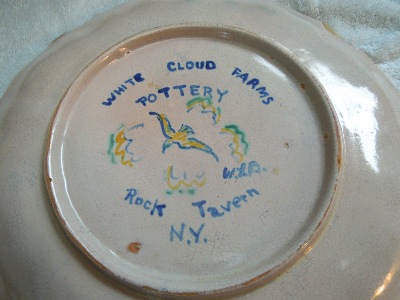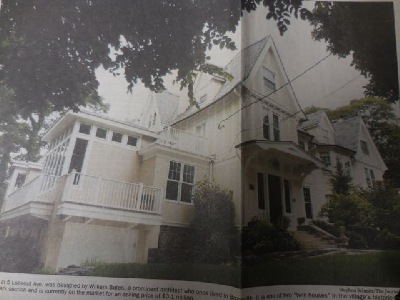 Above:
The historic Bacher House, sits on a hilltop, 5 Lookout Avenue, Bronxville , New York, on the market in July of 2004, with asking price of $3.1 million. Designed 1869 by premiere architect William Bates for Otto Bacher. He liked the house with it's commanding views across the village. The four level house with 15-foot ceilings and 47 windows that face east, south, and west is filled with light at almost any point during the day.
A perfect home and studio for the famous American artist and his growing family.
Below: The Bacher house in 2015.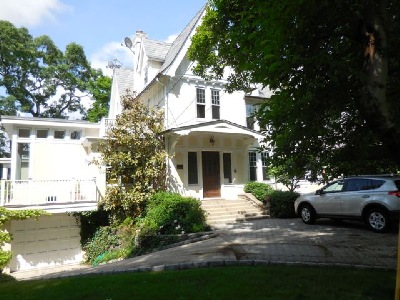 Thanks to Mike Doyle for this catalog