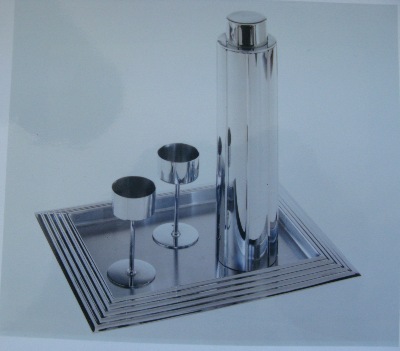 REVERE COPPER & BRASS INC.



In 1928 Charles Dallas merged his own business, The Dallas Brass & Copper Company, with five others to create the second largest supplier of copper and brass stock in its field.



At the time of the merger, total sales were a total of $61 million and with his company based in Chicago; Mr. Dallas wanted a "National" sounding name. He chose Republic Brass Corporation.



A year later, after the Black Thursday stock market crash of 1929, the whole Republic was at a stand still. Sales of sheet and bar stock fell. The economy was flat-lining in a Nation wide Depression. Total sales were now $12 million.



Maybe a new name would revive sales, thought Dallas, and Republic Brass was named after one of the five merged organizations located in Rome New York; the small Revere Copper & Brass Company. Now Charles Dallas had a company that could trace its ancestry back to Paul Revere and his copper company formed in 1801.



With the onset of a Nation wide recession everyone sought new avenues to increase income. In 1930 rival Chase Brass & Copper Company became a pioneer and major producer of chrome plated products in a new modern style. The silver screen spectaculars of the late 1920s' and early 1930s' helped to introduce the public to this Art Deco style. Chase produced decorative, stylized, inexpensive house wares which complimented the new informal lifestyle of this sluggish economic period. With the help of famous designers such as; Walter von Nessen, Lurelle Guild, Rockwell Kent & Russel Wright lending their talents to the design of many Chase products the gift ware line was successful right from the start. By 1934 there was a Chase Display in every major department store.



It may be that the newly formed Revere Company was a tad overextended and under funded as it took them a while to get on the bus. But in 1932 the Rome manufacturing plant became an entirely separate unit of Revere with a goal of diversifying its line into the gift ware field, and started to enlarge their new chrome-plating units to keep abreast with the demand in the newly developing field. Revere had recently started to chrome plate their famous whistling copper teakettles causing a healthy jump in sales.



In 1934 Charles Dallas contracted with a number of famous designers to submit drawings of items for production, including the most famous visionary industrial designer in the World; Norman Bel Geddes.



Norman Bel Geddes lived and worked in his brown stone house, 128 East 37th Street, in the Murray Hill section of New York City. From nine to six, five days a week it was a fully staffed design studio with all the bells and whistles; secretaries, telephones, a model shop with wood and metal working machinery, clerks, draftsman and designers all working side by side.


There were four partners besides Norman Bel Geddes; Frances Waite, Worthen Paxton, Earl Newsome and the famed architect George Howe who came on board in July of 1935.



The executive in charge of the Revere account was Frances Waite, who married NBG in 1933. She had a degree in design and was an equal partner in the firm. The design procedure for NBG & Co. was consistent; whether for an airliner, restaurant, or cocktail shaker. To fully understand the product NBG & Co. would conduct in-depth research. They were pioneers in consumer use surveys. Then Bel Geddes challenged his staff, with all information, to go to the drawing board with innovation and imagination until the best solution was attained.



Did Norman Bel Geddes design and draw any of the items for the Revere Catalog?



In the Bel Geddes Archives in The Harry Ransom Humanities Research Center at the University of Texas at Austin, there are 21 drawings 22 inches x 32 inches, graphite on tissue-like drafting paper, now browning and faded, of cocktail shakers. In the lower right hand corner, as on all blueprints, is the legend box. These are marked Revere Copper and Brass Company.



There are 13 different designs of cocktail shakers. These are all working drawings with dimensions ready for production. Not one looks like a "teapot", typical of cocktail shakers at the time, with handle and spout. One is rectangle, one oblong, one looks like a rocket ship, less fins, ready for blast off. Most are round, streamline and industrial looking. There are three drawings of the "Manhattan" cocktail shaker, still unnamed, in 4 sizes; 5 inches, 8 ½ inches, 11 ¾ inches, and 14 7/8 inches tall. In the end Revere produced a 12 ¾ inch high cocktail shaker.



The name or initials of Norman Bel Geddes do not appear on any of the designs for Revere. Everything for Revere was staff designed. In the original drawings of the yet to be named, Manhattan Cocktail Shaker, in all three under Drawn By: are the initials "C.B.". The other drawings of cocktails shakers for Reveres' consideration are by G.G., and some are signed in full, but the old originals are difficult to read. There are sketches of candy dishes signed J. McKay, (Jane A. McKay) March 1934, and three drawings of candlesticks signed C.Y. (Consuelo de Yoanna) . There are 15 drawings of ashtrays, some signed G.H. for Garth Huxtable.. (Some of these may be small candy dishes) a small serving tray, and olive dish.



Also in the Bel Geddes / Revere file is a drawing of a small serving tray. It is clearly part of a set. One of the plans show eight small circles 2 inches in diameter, and one large circle 3 ¾ inches on the tray. The cups are clearly meant to match the cup in drawing #0127, which is a cocktail cup 2 ¼ inches high, 2 inches in diameter with a 1 inch deep bowl. The cup has a spiral pattern in the center, and the artist is G.G. These are not the Manhattan cups.



None of the drawings are signed by NBG and all of them are dated 1934.




Did Bel Geddes see any of these staff designs?



With his wife, Frances Waite in charge, it's possible that he didn't. This was a very busy time for Bel Geddes with a cornucopia of major accounts and projects that needed his attention. He signed a contract with Chrysler to restyle Plymouths, and advise modifications to the Chrysler and De Soto. And he was designing interiors for the China Clipper Aircraft. But then again with his attention for detail he may have wanted to see all the drawings done in his office however briefly.



The 1935 Revere catalog contained 17 designs by Bel Geddes & Co. There was a lamp called the Coquette, six candlestick holders, candy dishes, ash trays, cigarette boxes and serving trays. One of the three serving trays was the Manhattan. The catalog boasted; "a most individual tray which gains its effect by a frank use of straight lines, delicate flutings and subtle contrast of finishes."



The famous Bel Geddes Cocktail Shaker would appear in the 1936 catalog. It's the perfect cocktail shaker; vertical ribs to prevent slipping from ones grasp when shaking, and a wide top mouth for filling and pouring. It has become the definitive King of cocktail shakers, what all other cocktail shaker designs aspire to be.



The famous Cocktail Shaker was the last of the items by NBG & Co. to be added to the Revere line. Most items would be shown in subsequent catalogs but there were never to be new designs by NBG & Co. Why?



Norman Bel Geddes was at the height of World fame and his services were far from inexpensive. Staggering was more like it. A story in the February, 1937, issue of Fortune Magazine puts it all into perspective; ***

In 1934 Frank Roberts, President of the Standard Gas Equipment Corporation, walked into the office of Mr. Bel Geddes and announced that he would like have a new stove designed and expected to pay, say $1,500 for this service and saw no reason why he shouldn't have his drawings in a week or two.



Designer Bel Geddes patiently explained that he was not in the business of selling pretty pictures, and that he would take the job only if he convinced himself that he and his staff could think of a better stove to be made for less. And that the job would take a year costing $50,000 as an advance on royalties on the new product.



Mr. Roberts returned to confer with his directors, but he had the courage to see it through. All stoves at the time were up on legs and dusting underneath them was not easy. Bel Geddes dropped sheet metal skirts on all sides, standardized the fittings and parts, producing the first streamlined stove and what most stoves still look like today.



In the end when the new stove appeared on the market, in January of 1933, the story had its happy ending. Sales rose, doubled and held their gains. Housewives wanted the Geddes designed stove. Bel Geddes at the time was a bigger name than anyone we can



imagine today. In the same article is the famous cartoon, reprinted from The New Yorker, showing a board meeting of distinguished looking executives, three of them holding cigars, and one of them standing saying; "Gentlemen – I Am Convinced That Our Next New Biscuit Must Be Styled by Norman Bel Geddes."



Revere made do and very well indeed with less expensive design names. The one book scroll by Fred Farr on the last page for the 1935 catalog skyrocketed in sales. So much so that in the next catalog in 1936 there were two pages of Fred Farr book scrolls; 4 book scrolls in 16 finishes! And his famous magazine rack, often attributed to Bel Geddes, in polished chromium with your choice of either a red or blue Catalin handle. With the great success of lower cost designers it seems NBG & Co. was just too expensive to keep doing business with.



Norman Bel Geddes remained on good terms with Revere for many years and throughout the post war period. But in the following catalogs since 1935; until the last one in 1941 there did not appear one new design by NBG & Co.



A Revere article in the Daily Sentinel, Rome N.Y., October 4th 1937, boasted of having "twenty-five designers of National and International reputation under contract. Included on the roster is the World famous Norman Bel Geddes, William Archibald Welden, Fred Farr, and Miss Helen Dryden, the first woman to play a part in automobile designing. …..continually submitting ideas for production with no obligations incurred by Revere when a design is submitted unless it is accepted. If accepted, a mutual understanding is reached between the firm and the designer as to terms." It's seems doubtful that NBG & Co. was one of the twenty-five waiting in line to submit designs on spec.



It's unknown when William A. Welden came on board as Head of Design for Revere, but it must have been early on. There is not a design attribution for Welden in 1935 or 1936, but in the 1937 catalog he has attribution for a dozen items; candle sticks, candy dishes, the Claridge ice bucket, a casserole-tray, a magazine holder, stationery holder, ashtrays and flower pots. Apparently it was less expensive to have your head of design submit items for production then to hire outside designers, and the designs of Welden were on par with any designer of the day. The next catalog in 1938 would feature his two outstanding cocktail shakers, the Empire and the Zephyr with matching cups. These are paired up with existing serving trays.



In 1938 the economy fell into another slump; as the stock market sagged it became a Depression within a Depression. "Pump Priming" was the term then used to describe additional millions of dollars spent on public works and other projects in order to get the economy moving again. But the alphabet soup of programs by Franklin Delano Roosevelt and his Cabinet, and his reassuring fireside chats, could not shake the Country out of economic despair. The Nation was at a financial standstill. Some items in the Revere catalog were dropped.



Revere found a way out. In 1931 they had started to produce a new line of cookware using chrome plating inside and outside the product. When it was discovered that chrome plating of any quality would be affected by the action of vegetable acids, the cookware line failed and was quickly abandoned. Revere then formed a development department to analyze metals and combinations thereof to find the perfect cooking utensil. Stainless steel had great qualities, light weight, rust-proof and easy to clean, but was a poor conductor of heat. A deposit of copper on the bottom of the pot was the perfect answer. Easier said than done, this turned out to be a highly technical and difficult problem, and it took a few years for the Revere laboratories to wed the two materials in a marriage that would not fail.



The new cookware line was designed by William A. Welden, with rounded joints between the insides and bottoms, rather than sharp joints which ere harder to clean. He was happy with his designs and the weight of the pots, but Welden wanted the perfect handle, one design that would look good on every item. He finally found his model in the handle of a used silversmith's hammer, worn from years of use. As soon as he picked it up and felt the way it fit his hand perfectly, he knew this was it. The handle became the model for the now famous pistol grip of the Revere pots and pans.



The new cookware line caused a sensation at the Chicago House-wares show in 1938.

When it reached retail it was an instant success and sales in 1939 steadily grew, replacing cocktail shaker sets as the wedding gift of choice. Revere Ware became a must have for new brides. Housewives were enchanted with its beauty and utility, easy to polish, with a mirror-like finish, and easy to clean, resistant to food acids and alkalis. Furthermore, it was warp-proof, produced no hot spots, no burning of food and gave, in short the greatest cooking efficiency. By the end of 1939 demand was greater than production.



The success of Revere and its new line, named in honor of the founder of America's copper industry, had to be put on hold when the Depression ended on December 7, 1941 and America's involvement in World War began.



All metal was used for the war effort and Revere began manufacturing brass cartridge casings. By the end of the war Revere had produced 3,400,000 cartridge casings, 4,400,000 smoke bombs and 2,400,000 rockets of six different types, along with a variety of other products for the war effort.*



After the war sales skyrocketed and by 1950 Reveres' sales volume hit $175 million.

Popular throughout the 1950's the dazzling cookware was a target for competition; S.W.Farber introduced aluminum-clad stainless steel cookware and at the same time the French Le Creuset Ware hit the market, cast iron cook ware in bright orange porcelain enamel and no copper bottom to polish. In 1959 Revere also faced competition from a new product; Telflon ® . Sales fell and plants were closed. The Revere Ware division was moved to a new subsidiary, Revere Ware Inc. based in Clinton IL.



In 1998 Revere was carved up, the cookware line sold to Corning, which in turn was sold to Borden Inc. in 1998. In 1999 the last domestic plant manufacturing Revere Ware in Clinton IL was closed, and headquarters were moved to Indonesia, with production plants located in China and Korea.



Today Revere Copper Products, Inc. is a privately owned corporation whose only shareholders are its employees. Its business operates in a collegial, team-based structure with a manufacturing center in Rome New York, producing sheet, bar, strip, extrusions, and plate copper stock.**



Sadly when Revere was carved up in 1998 the company records and historical archives of design details, if any, were either lost, destroyed or dispersed and are not available for reference. A tragic lost of history for us all.



You can find an abundance of general Revere history on the web, but very little about its gift ware line of the 1930's if at all.



*These figures are from Copper Heritage, The Story of Revere Copper and Brass Incorporated, by Isaac Marcosson. 1955. The amazing part of this two-hundred and fifty page book that starts in the year 1713 and ends in 1955 is that in the space of three pages it leaps from the merger of Revere in 1928 to the Revere Ware line in 1938. Not one word about the seven years of gift catalogs with famous name designers.



** The Revere Company web site. www.reverecopper.com and the Revere Ware web site www.revereware.com do not even bother with historical facts like this. While a few museum web sites attribute the Manhattan candle sticks to Norman Bel Geddes, not to designer Frederick Priess.



***The nine page article on industrial designers in Fortune Magazine listed the fees charged by ten designers. Examples;

Walter D. Teague… Retainer $12,000 to $24,000. Flat fees $500 to $10,000

Lurelle Guild Retainer up to $25,000.. Fee per day $100 to $200

Henry Dreyfuss.. Flat fee $1,000 to $25,000. Hourly consultation $50.

Norman Bel Geddes.. Flat fee $1,000 to $100,000 with Royalties. Royalties are subject to special arrangements.





STEPHEN VISAKAY. Copyright © All Rights Reserved. Any use or duplication without the express written consent of the author is prohibited.