THE STIRRING STORY



http://www.latimes.com/features/food/la-fo-swizzle-stick-20100916,0,6723869.story

ABOVE ARTICLE FROM THE LOS ANGLES TIMES. THE LONG VERSION IS BELOW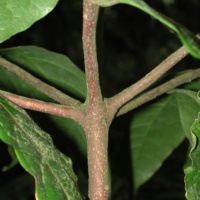 SWIZZLE STICK PLANT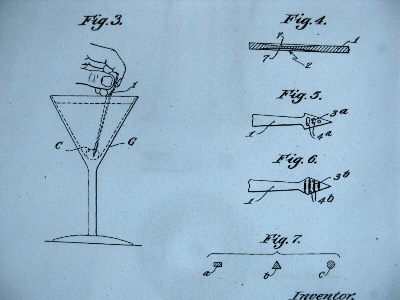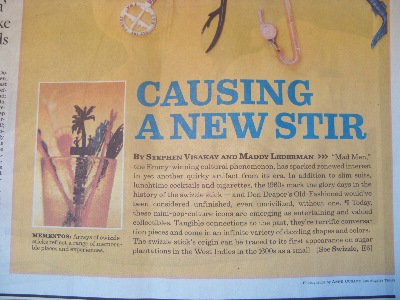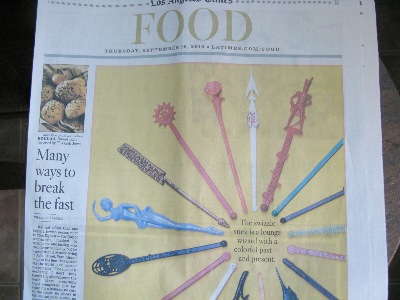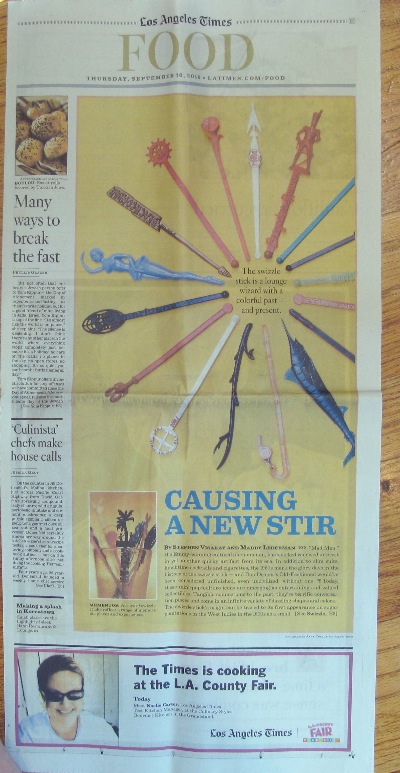 By Stephen Visakay



Most of us have a few swizzle sticks saved somewhere. A talisman of a drink we had in Las Vegas, or maybe from The Plaza Hotel in New York City, a memory in miniature of the night we saw Dean Martin at the 500 club in Atlantic City, or from that great date that somehow never worked out.



But where did Swizzles come from? Why did they become so popular? And why that name?



Swizzle" is derived from the German word, Switchel, and the Old English Swither , both mean beating and whipping. Precursors to our modern day swizzle sticks and electric drink blenders can be traced back hundreds of years, back to the branch of a plant that was used to stir a drink called Switchel. A refreshing hot weather drink first produced on sugar plantations in the West Indies in the early 1600's.



The energizing drink was made of water mixed with vinegar and molasses, and seasoned with ginger. The drink quickly spread to the American Colonies and became a summer time favorite. This Gatorade of its day was also served to thirsty farmers at hay harvest time, and then took on the name of Haymaker's Punch.



After it was discovered that molasses, a by product of sugar production that was once dumped into fields and streams, could be fermented and distilled into Rum, then Rum and Rum Switchels, became the drink of choice, not only for the sugar cane plantation owners but of everyone on the islands and abroad. Molasses became an important export along with sugar and the first rum distillery in the colonies was set up in 1664 on present-day Staten Island. The rum and molasses industries developed in conjunction with the growth of sugar plantations and were forever entwined. And somewhere along the way by the late 1700's the term Switchel had morphed into Swizzle.



In 1762 Jean Baptiste Christophe Fusee Aublet, a French pharmacist, botanist and explorer was sent to Cayenne in French Guiana by the French East India Company to establish a pharmacy and a botanical garden which allowed him to prepare his Histoire des plantes de la Guiane francaise published in 1775, which included almost 400 copperplate engravings. One of the plants in his book is a genus established by Aublet; the Latin name given is Quaraibea turbinate, and the common English name; Garrocho Swizzle Stick Tree. Its range extends from Haiti to St. John, in the Lesser Antilles from St. Eustatius to Tobago, and is recorded to extend into South America and may reach a height of 10 meters. Branches cut from this tree were used for mixing drinks called swizzles, whence the English name.



Here's what the bon vivant and author, Charles H. Baker Jr. had to say about the Swizzle in his book, The Gentleman's Companion, Volume II, Being An Exotic Drinking Book Or, Around The World With Jigger, Beaker And Flask, copyright 1939, Crown Publishers.

"THE WEST INDIAN SWIZZLE STICK, what IT IS……The authentic swizzle sticks are the peeled stem of a plant owning, at base, a fan-like branching of roots-the latter cut some 3" long-and looking like small gnarled fingers. This branched end is sunk into the pitcher with ice and drink ingredients, the stem is held vertically between palms, and rotated smartly by sliding the palms back and forth. They are procurable in all British West Indian possessions, and for obvious reasons are a romantic touch."



The Champagne Connection; Ladies of the Victorian Age and Queen Victoria herself, (1837-1901), used a glass stirring rod to chase bubbles out of Champagne served in wide mouth goblets, as did the Gibson Girls of the 1890's and the Flappers of the Roaring and Pouring 1920's. Many women thought the carbonation caused indigestion and flatulence. (The dreaded F word) This theory did have truth to it and as written in the February 2002 issue of the McDougall Newsletter; "Some alcoholic beverages cause indigestion and increased acid production. Champagne has been found to be the most upsetting followed by wine, sherry, and beer." And The Doctors Book of Home Remedies for Women, Rodale Press, 1997, advises women to; "Un-Carbonate your life. The bubbles and fizz in carbonated beverages such as….Champagne and sparkling water produce lots of gas" and advises women who complain of gas to drink water…especially with large meals. And "What doctors do know is that everybody thinks they pass too much gas. Chances are, though, you're well within the normal range. On any given day, your average Jane releases gas 14 times."



In 1925 author P.G. Wodehouse wrote about swizzles when his character Bertie Wooster visits a West Indies bar located in an English fair pavilion.;

"I have never been to the West Indies, but I am in a position to state that in certain of the fundamentals of life they are streets ahead of our European civilization. The man behind the counter, as kindly a bloke as I ever wish to meet, seemed to guess our requirements the moment we hove into view. Scarcely had our elbows touched the wood before he was leaping to and fro, bringing down a new bottle with each leap. A planter, apparently, does not consider he has a drink unless it contains at least seven ingredients, and I'm not saying, mind you, that he isn't right.

The man behind the bar told us the things were called Green Swizzles; and, if ever I marry and have a son, Green Swizzle Wooster is the name that will go down in the register……. From "The Rummy Affair of Old Biffy,"



A new twist on the age old stirring rod came from Jay Sindler. It all started in February of 1934, just two and a half months after the repeal of Prohibition, as Sindler sat contemplating his martini at the bar in Boston's Ritz Carlton Hotel. He worked for the Converse Rubber Company and was an avid inventor with several patents. He was now considering how he could remove the olive from his glass without dipping his fingers into the gin. One alternative was to wait until he drained the glass and let the olive tumble down into his mouth.



I like to think Sindler was on at least his second or third martini when it all came together for him. He envisioned a small spear, cheaply made of wood, with a paddle-like handle, imprinted with the establishments' name, like miniature billboards. It would be something the patrons could take home, cheaper than a book of printed matches and cheaper still than the vanishing ashtrays and cocktail glasses. Sindler applied for his patent on March 16, 1934 and was granted patent number 1,991,871 on February 19, 1935. In his three page patent copy, he used a cherry as an example; "The difficulty of securing a cherry resting at the bottom of a cocktail glass without resorting to boorish antics obnoxious to people accustomed to polite social usages is so well known as to have become a matter of public comment and jest."



Sindlers' invention caught on, his new company Spir-it was off and running, the die cut flat wood swizzles were also handy for spearing finger foods; French fries, pickles, and the like.



There was, however, competition; with Repeal, all the great glass companies began manufacturing bar ware. The stirring rods once used by 1920's Flappers were now mass-produced by the drove and used to stir mixed drinks. But the glass swizzles didn't have the pointed spear and were costly to silk-screen with a hotel logo. Some glass companies had the novel idea of inserting a tube of paper with the advertising copy into a glass rod and then sealing the end, like a message in a bottle, but again a costly answer. Today this type of hollow, and easily broken, stirrer is one of the most sought after by collectors.



Bakelite and Catalin swizzles were also made in those days, imprinted with the name of the establishment. And with the onset of World War II and throughout the 1940's there were major developments in injection molding and new materials for industrial use, leading to a tremendous increase in the production of plastic products including swizzles.



In his 1946 book, Trader Vic's Book of Food & Drink, Doubleday & Co., Victor Jules Bergeron Jr. said about swizzles; "Before we go any further, a word about swizzling, I think it's a hell of an idea. You get your drink and you stir it with a spoon but you don't get the proper dilution to make it taste good. With your pet swizzler you work it up and down in the drink between the palms of your hands and you get a good chill on the drink and the proper dilution of any strong drink.

Years later on Feb 3, 1959, Bergeron would receive three patents from the United States Patent Office for Tiki swizzles of his own design.



In the 1950's swizzles were manufactured of plastic in an incredible array of shapes and colors and served as inexpensive advertisements for clubs, casinos, restaurants and airlines. Trans-World Airlines served drinks with a red airplane propeller shaped swizzle. Many bars made do with a stock inexpensive plastic swizzle; a straight tapered rod with a paddle signboard on top which was imprinted with the tavern's logo.



The age old champagne dilemma; to swizzle or not to swizzle to avoid gas or the dreaded F word, -Flatulence- continued into the 1950's and 1960's. Humorous Art Buchwald while writing a column for the Herald-Tribune in Paris, 1953, gives his take on the swizzle conundrum: "Champagne swizzle sticks have strayed far from their original purpose. Now they are used to keep time to music or to chew on during a dull act…..There are experts who maintain that champagne would not be champagne without a swizzle stick, opposed to people who say champagne is no longer champagne when you use one." And goes on to say… "it takes five years to put bubbles into good champagne and two seconds with a stick to take them out……if people don't want bubbles in their champagne they should order white wine.."



In 1962 there was an important introduction on the silver screen that signaled the beginning of the end for the champagne swizzling dilemma. It was in the first James Bond thriller Dr. No. Secret Agent 007 is sent to Jamaica, (not a swizzle in sight) on assignment, and while held captive by Dr. No. is served a Dom Perignon '55 in a tall tulip flute, rather than the standard saucer shaped champagne glass. Now there is some controversy with this film because many say an even more important introduction was that of 26 year old Ursula Andress as the shell diving bikini clad girl. But of course we imbibers know which the more thrilling introduction was. It does take time for things to evolve; in the 1971 movie Plaza Suite champagne was still being served in wide-mouth glasses, and even in 1980 the Mr. Boston Deluxe Official Bartender's Guide, never the one to jump on the trendy bandwagon, still showed a saucer shaped champagne glass in its two page glass ware section.



The standard saucer champagne glass morphed into a tulip shape and then into the flute glass as we know it today thus ending the swizzle dilemma. Today we all use the champagne flutes for serving, which rightly conserves the effervescent. Thought one can still sometimes see the saucer champagne glasses used for the pouring of a traditional wedding pyramid.



As we entered the Space Age of the 1960s, there was a boom in the electronics industries, calling for precision plastic parts, which led to major advancements and application of new technologies in the field of thermosetting plastic injection molding. What was good for the space race was good for the swizzle and the period from the late 1950's throughout the 1960's proved to be a Golden Age for signature swizzles.



Did Trader Vic's need a signature swizzle in the shape of a Hawaiian outrigger canoe paddle with a Tiki God handle? Did the Thunderbird Hotel and Swim Club in Miami Beach need a Flying Thunderbird on top of a swizzle with its name in large script over the shaft? How about a swizzle in the form of a Chinese lantern, Palm Tree, Shamrock, Lobster, Giraffe, Elephant or Hippo? Did Playboy need a long swizzle with a Bunny Head? Raised letters or imprinted? Name the color, anything goes.



The popularity of the swizzle stick in the 1950's & 1960's was drink driven. Plain mixed drinks, i.e.; Highballs were the fashion; Scotch & Soda, Rum & Coke, Canadian Club and Soda, 7 & 7 (Seagram's 7 and 7-Up) Rye & Ginger Ale, or a VO Presbyterian (Seagram's VO with ½ Seltzer and ½ Ginger Ale). All highballs were poured over ice in tall glasses and only needed a swizzle stick to mix. The highball was served to the imbiber with the swizzle in the glass.



Swizzles proliferated in the Lounge Culture of the 1960s'. It was Come Blow Your Horn time; Oceans' Eleven with Sinatra and the Rat Pack; Tiki bars, high wide white collar shirts, narrow silk ties and sharkskin suits, shiny hair and cool babes in tight cocktail dresses. Relax in a bar enjoying your favorite cocktail; Bobby Darin, Frank or Steve & Eydie on the jukebox. Taking a swizzle as a memento was encouraged. It served as a promotional calling card or a remembrance of a wonderful trip or night on the town.

Swizzles disappeared from nightclubs and hotel bars as fast as they were set out. Demand soared and sales for the Spir-it Company, started by Jay Sindler, skyrocketed.



In early 1967, sales were helped along with an order from a small, but rapidly growing, chain restaurant called McDonald's. Spir-it started to produce plastic utensils and coffee stirrers. Twelve years later in a Nationwide drug paraphernalia panic helped along by a Time Magazine article, Dec 24, 1979, "those little plastic coffee stirrers that McDonald's gives out with its cups of coffee-the ones with the tiny spoons on the ends-are being used by cocaine sniffers who cannot afford the silver spoons affected by the beautiful people." True or not it made good copy and McDonald's recalled the swizzles and replaced them with a straight shaft stirrer. Old model stirrers, never to be made again, became an instant collector's item. Sales for the Spir-it Company sailed past the one million dollar mark in 1968.



Visitors to the White House during the Jimmy Carter Administration, 1977-1981, failed to retrieve a swizzle stamped 1600 Pennsylvania Avenue. The White House was dry. It was beer and wine only at State functions and dinners; no doubt the reason Jimmy was a one term President. He also demeaned and derided the "fifty dollar martini lunches" for businessmen. Leading to an amusing rebuttal from former House Speaker Jim Wright (D-TX), "If the Good Lord hadn't intended us to have a three martini lunch, then why do you suppose He put all those olive trees in the Holy Land?"



The 1980's are known as the health and nutrition decade. Jane Fonda workout videos were the rage. Leg warmers and jogging outfits became a fashion statement

Candy Lightner started Mothers Against Drunk Driving and campaigned against the Happy Hour in bars and restaurants. And if there was an horrific car crash involving alcohol and there were six swizzle sticks on the wreckage floor that said " Dew Drop Inn" this was not such a good thing for that establishment. People turned to light beer and white wine as apposed to hard liquor. As bars, hotels and restaurants became more cost conscience in the 80's and beyond swizzles got smaller and smaller and just about shrunk away. Plain cellophane sticks were now used as swizzles in cocktails. Swizzle stick use also declined as the highball gave way to new drinks like; Harvey Walbanger, Kamikaze, Golden Cadillac, God Mother and the God Father.



The early 1990's saw a small groundswell toward a new cocktail age, started by Dale De Groff, Bar Chef at the New York City Rainbow Room, on the sixty-fifth floor of Thirty Rockefeller Plaza, who made retro-cocktails with fresh ingredients. While on the opposite coast Tony Abou-Gamin, head bartender for Harry Denton's Starlight Room, atop The Sir Francis Drake Hotel in San Francisco, also pioneered cocktails with all fresh ingredients. The Martini, in celebration of the drink by Barnaby Conrad became a best seller. And there were a series of seven National museum exhibitions of cocktail shakers as works of art. Add to this the HBO program Sex and the City where the girls were imbibing their signature Cosmopolitan cocktails along with an occasional Bellini and the groundswell turned into a tidal wave.



In 1996 the Spir-it Company acquired the cutlery manufacturer Oak Hill as sales cracked $10 million. In 1999 Spir-it acquires the rival company Zoo Piks and in 2003 changed its name to Spirit Brands. The company produces well over 4 billion swizzles a year. They still have McDonalds as a customer, but are a tad shy about releasing a customer list along with sales figures.



As the Millennium began Generation X started a full-blown zeitgeist of the Martini. Many found it's more fun to dress in sophisticated upscale clothes rather than having a nose ring with purple hair and tattoos, more fun to shake the latest style cocktail in a vintage shaker. A healthy lifestyle for many today is a fine cigar with a strong martini. It's a more elegant and luxurious standard of living, time to indulge and enjoy. The cocktail tsunami has returned quality swizzles and cocktail shakers to the party. We are drinking more responsibility today and when imbibing only one or two drinks we want the drinks to be of premium quality. Consumers tend to be more visual and bartenders are responding with drinks that are just as impressive to look at as they are to consume. Unique cocktail swizzles and picks fit right into this trend. They are evolving every day to compliment the newest cocktail and serving trends. And one can still find showy signature swizzles today at the bars and hotels that can afford them; in Reno, Lake Tahoe, Las Vegas and Atlantic City. Also at the Indian casinos, casino boats and cruise ships.



Looking for vintage swizzles? Ask your folks to see their collection, they have a few stored away somewhere. Ask questions, you may hear some interesting stories. You can visit antique stores, yard sales and flea markets to add to your collection, but with the long reach of the Internet it's easier just to go to E-Bay and find close to 600 listings at any given time.



Having a party? Consider having your very own swizzles made for the big bash. If you want to order from the company founded by Jay Sindler himself, they have a catalog of standard designs, Palm Trees and all, but you will need a large guest list, the minimum order is for 5,000. For a custom design submit your sketch or logo for quote and order 50,000. You can always call them for over runs or for any advice you need, they are all very, very nice people there. 1-800-343-0996 http://www.spiritfoodservice.com/What/Default.aspx?sub=39



An easier way, for a small order, is to contact; My Wedding Reception Ideas (www.MyWeddingReceiptionIdeas.com) A 5 inch swizzle in blue, red or white, with up to 40 characters imprinted with your choice of 47 foil imprinted colors with prices starting at $21.12 for fifty swizzles.





With National clubs such as the ISSCA; International Swizzle Stick Collectors Association*, and thousands of collectors World-wide, sociologists and anthropologists agree that, these miniature pop culture icons give us an inside look at the past and are a valued collectable worth saving for future generations. And besides they can still be used to stir your favorite drink.


http://members.shaw.ca/veray.issca/Convention%202011.htm

above is link to International Swizzle Stick Collectors. Please join if you can.


END

STEPHEN VISAKAY. COPYRIGHT. ALL RIGHTS RESERVED, ANY USE OR DUPLICATION WITHOUT EXPRESS WRITTEN CONSENT OF THE AUTHOR IS PROHIBITED.

The ISSCA has a monthly news letter and meets once or twice a year to swap swizzles and exchange information and help other members identify and classify their collections. Founder Ray Hoare is hosting the 2009 Silver Anniversary of his organization in the swizzle stick Mecca of Las Vegas. Where else can you score so many swizzles in the course of one weekend? For more information contact; www.swizzlesticks-issca.com

Stephen Visakay is author of Vintage Bar Ware, Collector Books 1997 and has written for antique, collectible, and trade magazines. His cocktail shaker exhibition, "Shaken, Not Stirred, Cocktail Shakers and Design" has been featured in museums Nationwide, including The Montgomery Museum of Fine Arts, The Louisiana State Museum, and The Milwaukee Art Museum. Contact: visakay@optonline.net ©



SIDE BAR

PATENTS



In the 1880's the swizzles antecedent seems to be a thin pickle fork, with over a dozen listed, in the Washington D.C. patent office files. The first swizzle patent recorded is # 55,861, July 20, 1920. Along with Jay Sindlers original patent of 1935, #1,991,871, you can find another patent dated September 13, 1955, it's for swizzle that could hold a card; Reserved For:



One of my personal favorites is #2,462,991 by B.P. Plainkas, granted on March 1, 1949. Mr. Plainkas noticed that "when several persons have drinks with which stirrers are provided, there is an accumulation….. often idly bent or broken into various meaningless pieces…." His patent "is to provide a stirrer or spear with predetermined marks, scoring or cuts to indicate the bending necessary to form …..into the shape of birds, animals, or other figurettes." So the imbiber could actually do something instead of just sitting and staring into his drink.



Also an amazing patent dated September 29, 1992, #5,151,720 , by Marurice Kanbar for Skyy Vodka is a "swizzle stick for stirring mixed drinks, the stick being convertible to a lens-less ophthalmic device making it possible for a typical individual having defective sight to see clearly regardless of the nature of the defect. …thus while the customer sips his drink he may at the same time be consulting a menu." Forgot your glasses? Just perch this on your nose. Marurice Kanbar holds a few dozen patents, and was the originator of Skyy Vodka and now of Vermeer Dutch Chocolate Cream Liquor and has issued swizzle eyeglasses for both brands. These swizzles prove hard to find and are a valued collectible. And as Ray Hoare, founder of ISSCA has said the most sought after swizzle stick by collectors is the one they don't have in their collection.



Rather than slog through the United States Patent Office files, Google has made things easy for us now. Just punch up Patents & Google on the web and they have listed over seven million patents with an easy sub-search feature.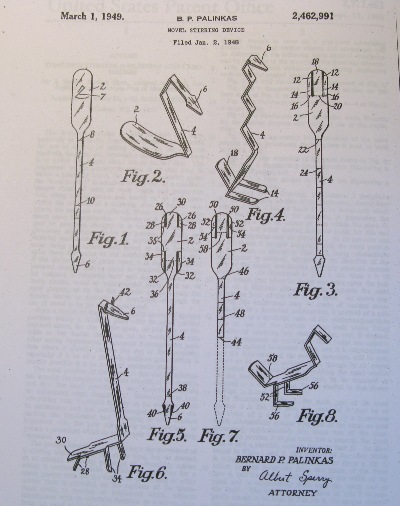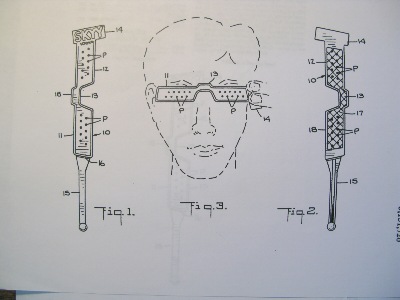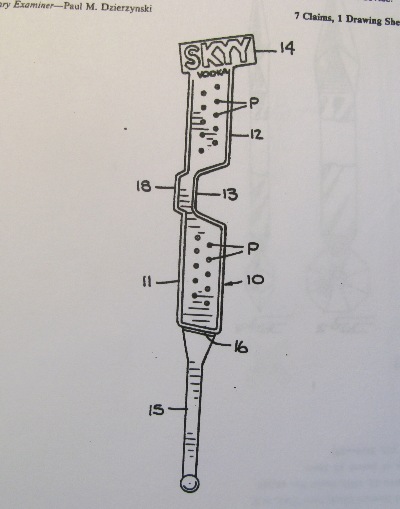 Designer Swizzles
By Stephen VisakayVICTOR JULES BERGERON, Jr.
December 10, 1902 – October 11, 1984


Bergeron designed and patented two swizzles and a cocktail pick for his worldwide chain of Polynesian restaurants, known as Trader Vic's. All patents were granted on the same date February 3, 1959.

They are;Hawaiian outrigger canoe paddle with Tiki God handle. # Des.184,333Hawaiian War Club. # Des.184,334Tiki God cocktail pick that will sit on the rim of a cocktail glass. # Des.184,335

It all began for Bergerone in 1934, when he opened a small bar/restaurant in Oakland California named Hinky Dink's. He became a popular host with his pungent vocabulary and potent tropical rum drinks and his Americanized adaptations of Polynesian food. It was one of the most popular watering holes in the Bay Area attracting sophisticated urbanites like writers Barnaby Conrad, Herb Caen and Lucius Beebe. By 1936 when Caen wrote that "the best restaurant in San Francisco is in Oakland" Vic had become "The Trader" and Hinky Dink's had become "Trader Vic's."

As recounted by Trader Vic history the Mai Tai was invented by Bergeron in 1944 when he mixed Jamaican rum, lime juice, a few dashes each of orange curaco syrup, French orgeat and rock candy syrup. He served this drink to his two friends from Tahiti, who was there that night, and after one sip they exclaimed "Mai Tai – Roa Ae." In Tahitian this means "Out of This World – The Best." The new drink became known as Mai Tai.

During the Tiki culture fad of the 1950s and 1960s Trader Vic's restaurants were in operation around the world, all featuring the popular mix of Polynesian artifacts, unique rum cocktails and exotic cuisine. Throughout the 1970s and 1980s the empire began to shrink as a new generation of people had little or no connection to the restaurants Tiki theme.

Today with the turn of a new millennium and resurgence toward retro-cocktails Trader Vic's and Tiki culture, has experienced an explosive resurgence as the internet driven generation X discovers and adopts the rum drinks and Tiki atmosphere as its own. Trader Vic's has 25 locations around the globe today equaling the previous chain record set in the 1960s, with more to open shortly. Can a new generation of swizzle sticks be far behind?Mai Tai recipe2 ounces Jamaican Rum1/2 ounce French Orgeat1/2 ounce Orange Curacao1/4 ounce Rock Candy SyrupJuice from one Fresh LimeHand shake well with ice and garnish with a sprig of fresh mint.





SWIZZLE RECIPES

"Fifteen men on the dead man's chest

Yo-ho-ho, and a bottle of rum!

Drink and the Devil had done for the rest

Yo-ho-ho and a bottle of rum!"

Billy Bones in Robert Louis Stevenson's Treasure Island, 1881







ORIGINAL SWITCHEL

½ cup vinegar, apple if you have it

½ cup molasses

½ gallon cool water

2 tsp. ginger





RED RUM SWIZZLE

Juice ½ Lime Trader Vic's Book of Food & Drink

2 Ounces Barbados Rum 1946

1 Dash Angostura Bitters

½ Teaspoon Sugar



JAMAICA RUM SWIZZLE

One Full Pint, Jamaica Rum

Juice of Six Limes The Gentleman's Companion

4 tsp Sugar Syrup 1939 by Charles H. Baker, Jr.

Fresh Mint, 1 Dozen Sprigs

Swizzle in a large pitcher with ice, pour out into

Commodious glasses, and garnish with a sprig mint,

And a stick of fresh ripe pineapple, if some is handy.



PLANTER'S PUNCH

"One of sour, Two of sweet;

Three of strong, Four of weak. Wine, Cocktails And Other Drinks

Ie; 1936 by Frank A. Thomas

½ Glass Lime Juice

1 Glass Sugar Syrup

1 ½ Glasses Rum

Shaved Ice.



RUM SHRUB

Put three pints of Orange Juice and one pound The Bon Vivant's Companion

of loaf sugar to a gallon of Rum. Put all into a or How To Mix Drinks.

Cask, and leave it for six weeks, when it will Professor Jerry Thomas. 1862

be ready for use.



HAVANA COCKTAIL

1 1/2 Oz. Pineapple Juice Old Mr. Boston, De Luxe

¾ oz. Rum Official Bartender's Guide 1935

½ Teaspoon Lemon Juice

Shake well with cracked ice, strain

into Cocktail glass.



ROMAN PUNCH

One Quart Rum

One Quart Champagne The Savoy Cocktail Book

½ Liqueur Glass Orange Bitters Harry Craddock 1930

Juice of 10 Lemons

Juice of 3 Oranges

2 lbs. Sugar

The Whites of 10 Eggs

Dissolve sugar in lemon and orange juice

In punch bowl, add the rind of one orange,

add the well beaten whites of eggs. Surround

the bowl with cracked ice and stir the ingredients

well together.







ZOMBIE

1 oz. White Label Rum, 86 proof

2 oz. Tropical Gold Seal rum, 86 proof

1 oz. Rum, 90 proof

1/3 oz. Apple Brandy The Official Mixer's Manual

¾ oz. Powdered Sugar Patrick Gavin Duffy 1940

Juice of 1 Lime

¾ oz. Papaya Juice

¾ oz. Pineapple Juice

Ice generously and shake. Pour into a

14 oz. glass, add a slice of pineapple, a green

and a red cherry. THEN FLOAT ON TOP

RUM OF 151 PROOF. Top off with a fine

powdered sugar.



Rum drinks are more popular than ever and here's a few drinks from the best rum book on the market today a must have, history & recipe book by Robert Plotkin,

THE ORIGINAL GUIDE TO CARIBBEAN RUM AND DRINKS. Barmedia 2001



RUM RUNNER

1 ¼ oz. Bacardi Select Rum

1 ¼ oz. Mount Gay Eclipse rum

¾ oz. Blackberry Brandy

¾ oz. Crème de Banana

1 ½ Orange Juice

1 ½ Sweet'n Sour Mix

Shake and strain, Orange Garnish







RUM SWIZZLE

House specialty glass, crushed ice

Build in glass

2 ½ oz. Gosling's Black Seal Rum

¾ oz. Lime Juice

½ oz. Simple Syrup

2-3 Dashes Angostura Bitters

2 oz. Club Soda

Orange & Cherry Garnish



INDEPENDENCE SWIZZLE

Tall Glass, crushed ice

Build in Glass;

1 ½ oz. Appleton Estate V/X Rum

3 dashes Angostura Bitters

¾ oz. Honey

½ oz. Simple Syrup

1 oz. Fresh Lime Juice

Swizzle thoroughly with a spoon until

Glass frosts, Lime Garnish