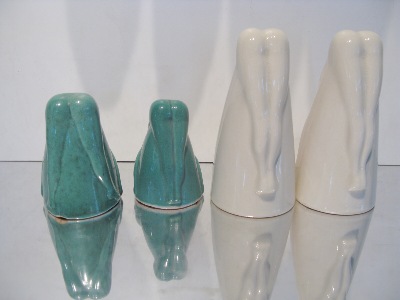 1.)Original open leg bottoms up 2.) later closed leg 3&4) ca.late 1940's ..early 1950's tall drink bottoms up. Note: the Tall drink bottoms up from the 1950s have a Round mouth... All other White Cloud Pottery bottoms up have an Oval Mouth!... Except the closed leg shot glass 2 1/4" high, thinking they were produced later, 40s or 50s. and they have Round mouth 2 & 1/32 outside diameter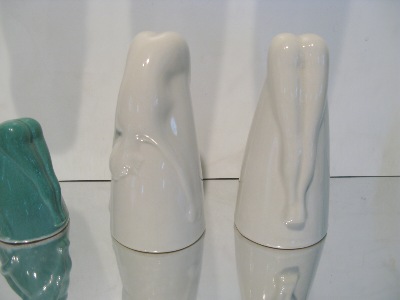 Tall Drink 5 1/2" high.. & have a heavy ceramic look & feel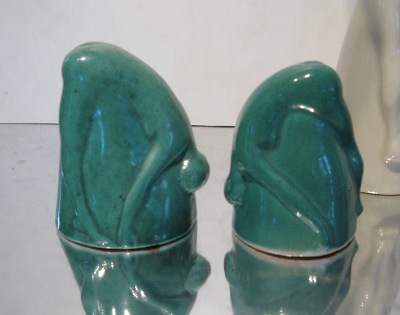 above. open leg varies 3 1/2" to 3 3/4 tall depending on the mold
& closed leg 3 3/16th " tall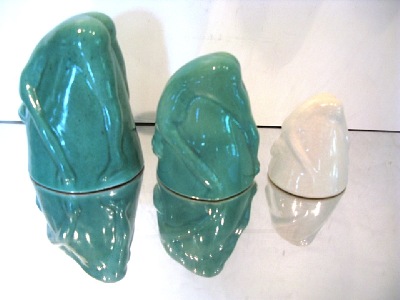 ON THE LEFT, TWO WHITE CLOUD BOTTOMS UP & one small shot glass, also White Cloud

BELOW. NOTE THE OVAL MOUTH OF THE FIRST TWO CUPS, THE THIRD TALL HI-BALL 1950s WHITE CLOUD IS WITH A ROUND MOUTH.
AND THE FOURTH CUP IS THE SHOT GLASS VERSION , and may vary from 2 3/32 to 2 1/4 high with a 1 15/16 to 2 1/32 diameter ROUND MOUTH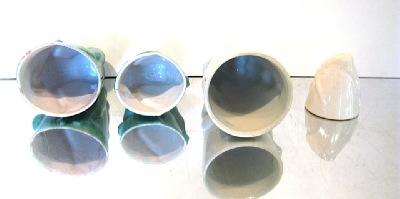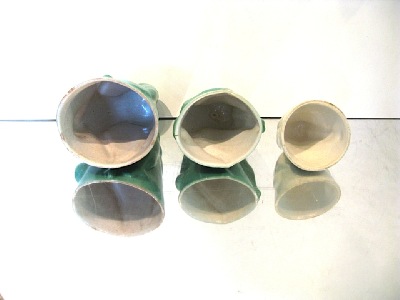 THREE VINTAGE WHITE CLOUD BOTTOMS UP CUPS. ALL STAND SIZE CUPS WILL HAVE AN OVAL MOUTH. THE SMALLER CUP PRODUCED BY WHITE CLOUD WILL HAVE A ROUND MOUTH. SIZE OF THIS CUP IS 2 3/32 high with a 1 15/16 Round Mouth.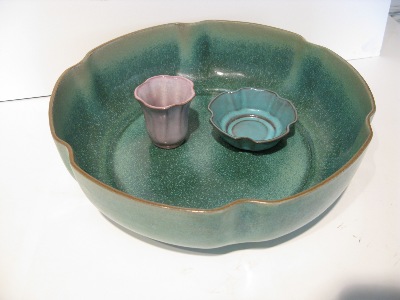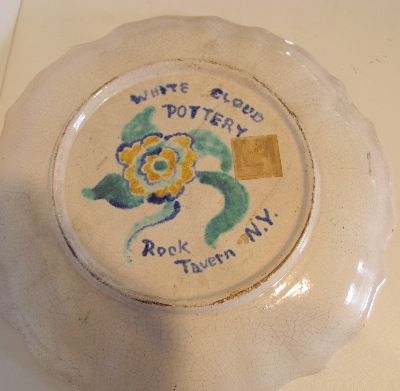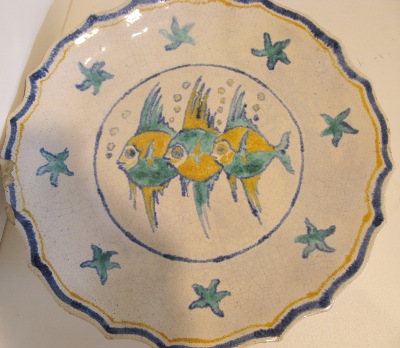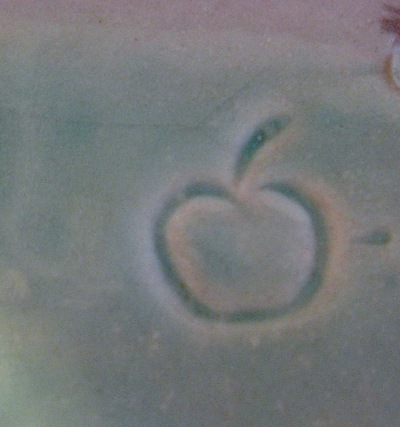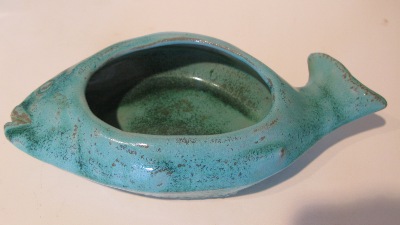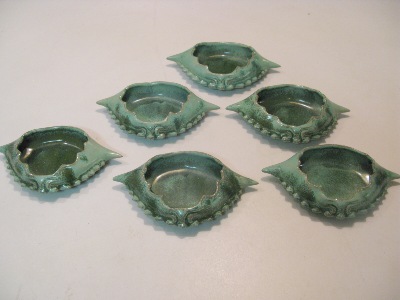 a nice set of crab serving dishes, But.. doubt they are white cloud, same color glaze and same bottom as the dishes...But unmarked... purchased on e bay.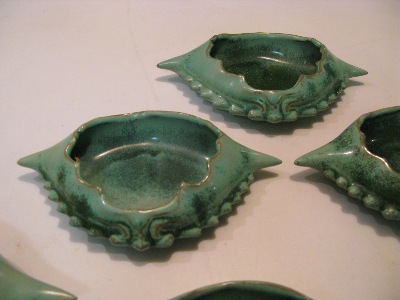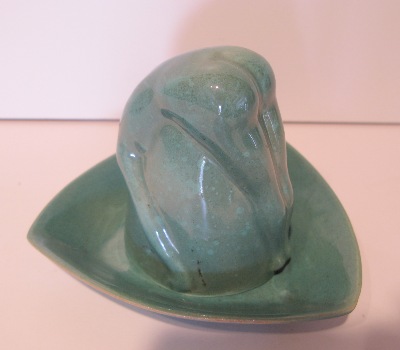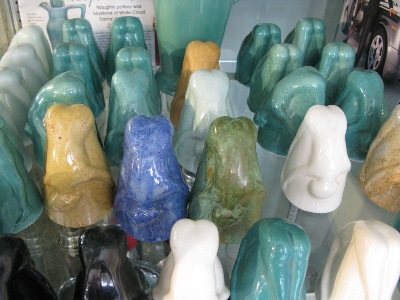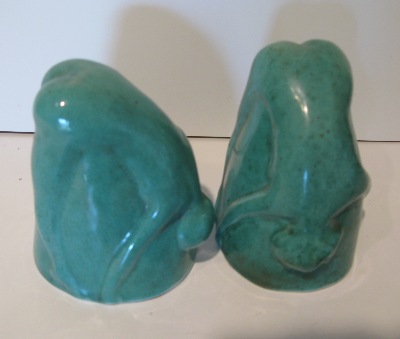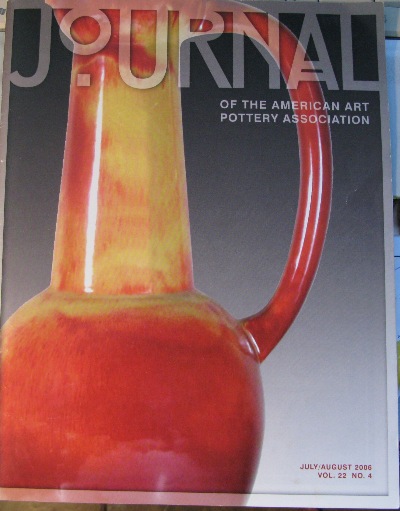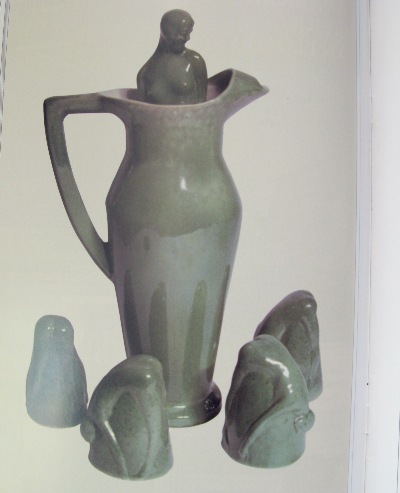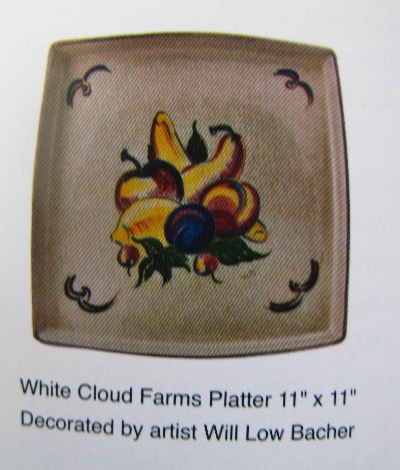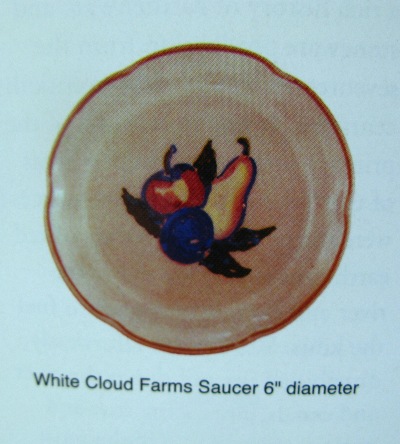 FAMED AMERICAN ARTIST OTTO HENRY BACHER AND HIS WIFE MARY HOLLAND. BETWEEN THEM IS THEIR SON, HOLLAND ROBERT BACHER, THE FUTURE PRESIDENT OF WHITE CLOUD FARM INC.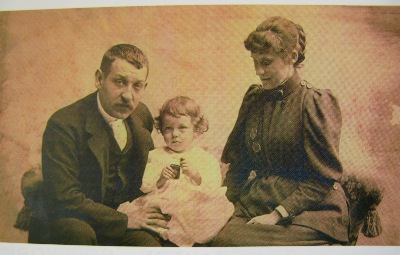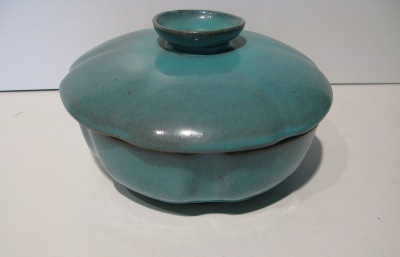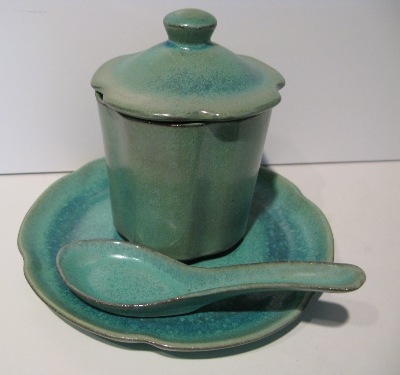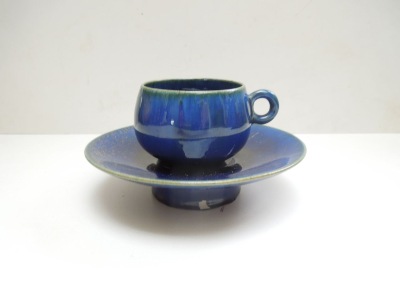 Demitasse Cup with footed saucer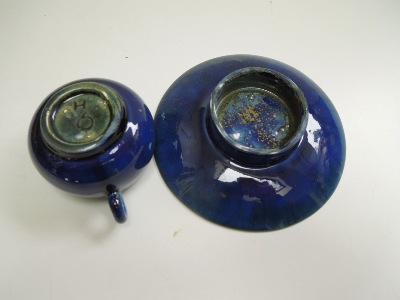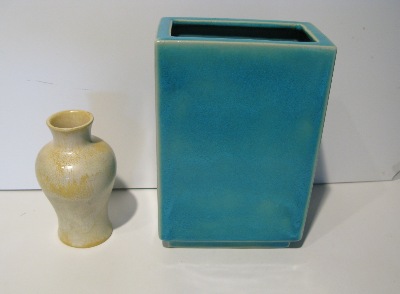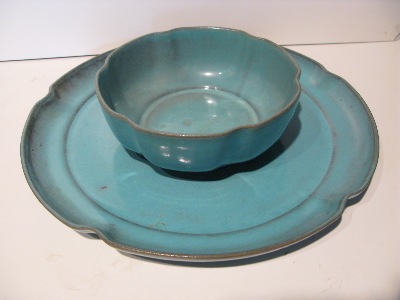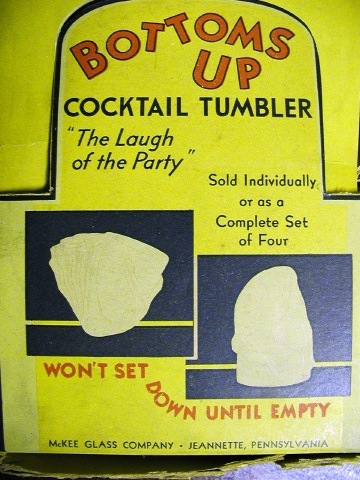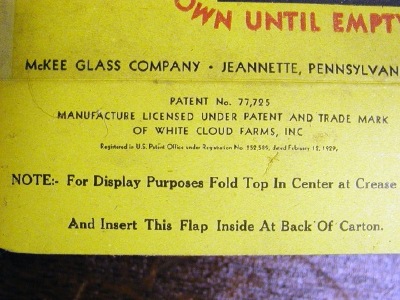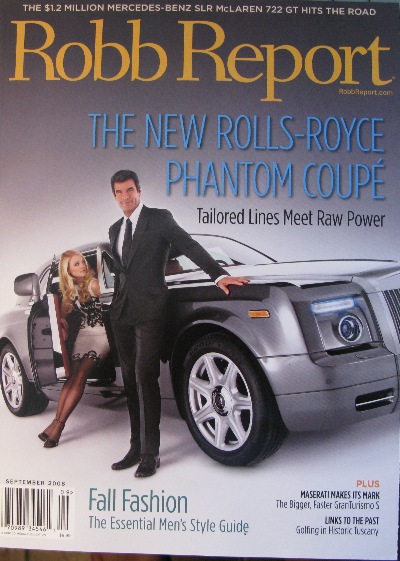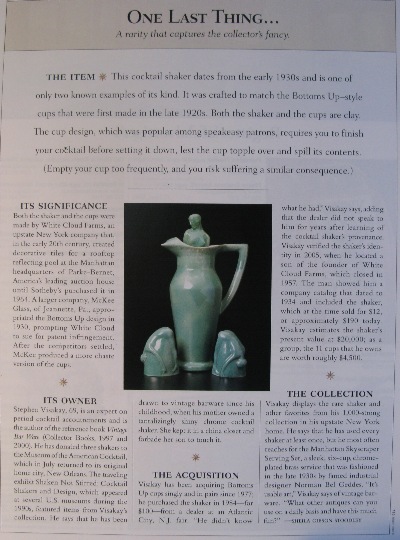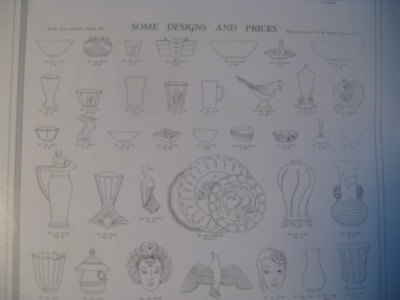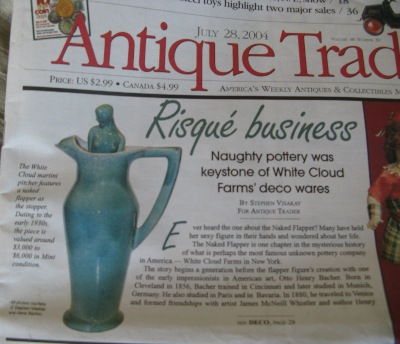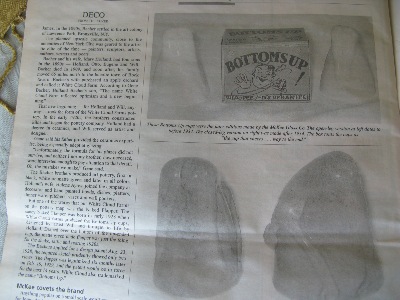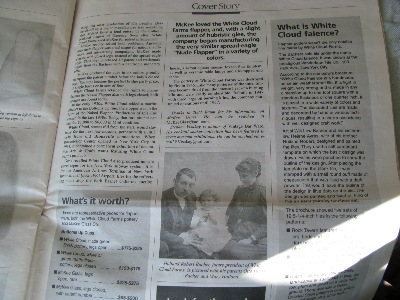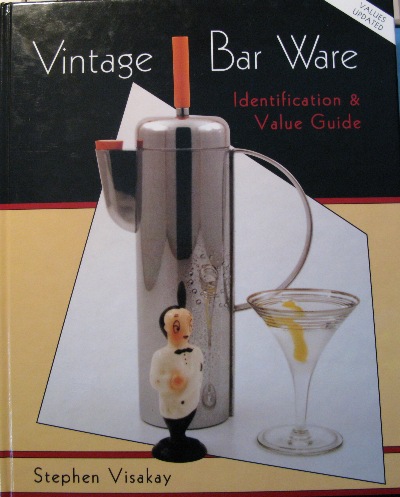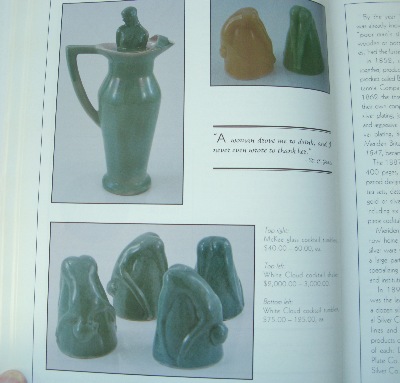 BELOW. PRODUCED BY McKEE GLASS but not by White Cloud Farm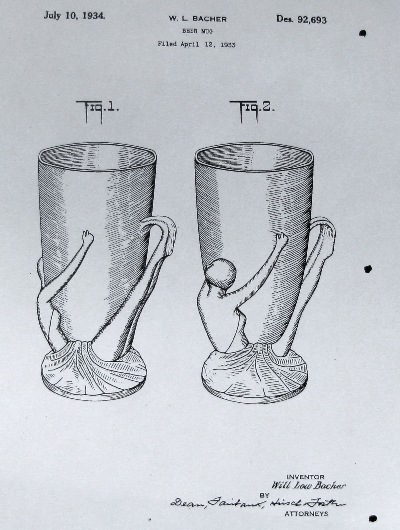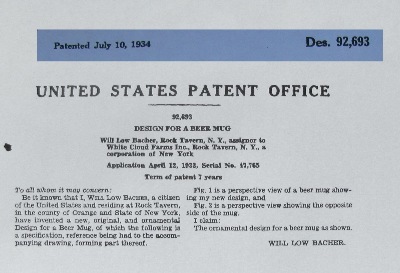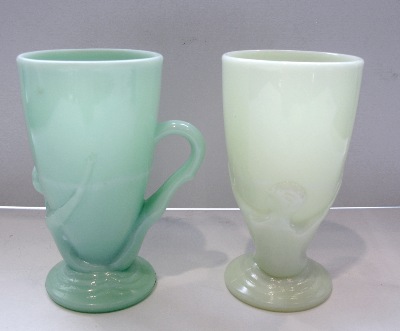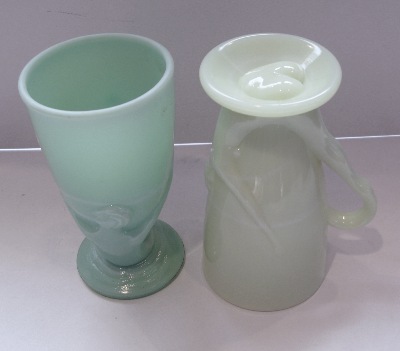 BELOW.. NEVER PRODUCED as far as we know. tho White Cloud Farm must have made at least a few.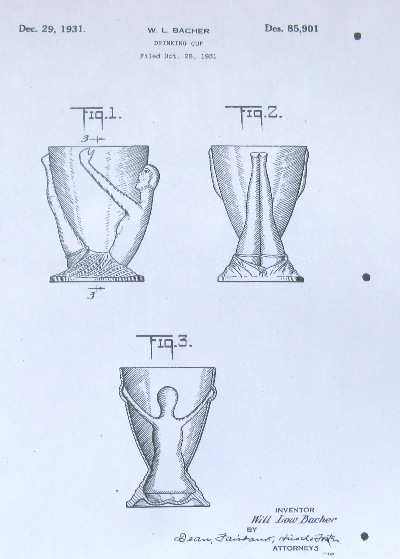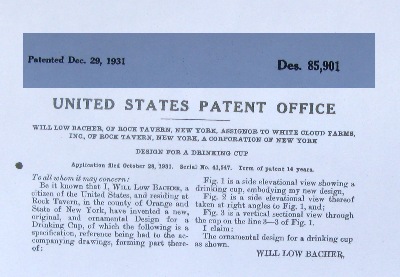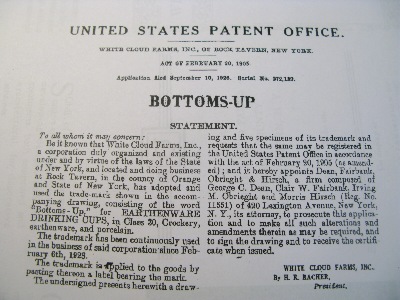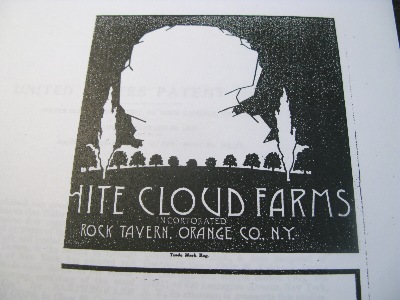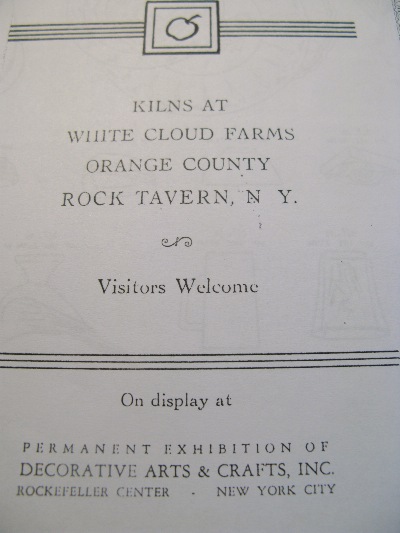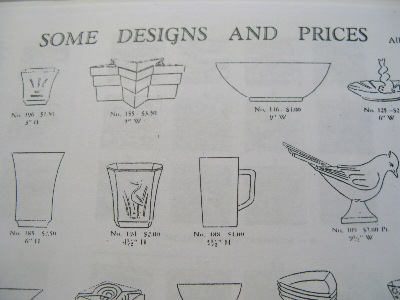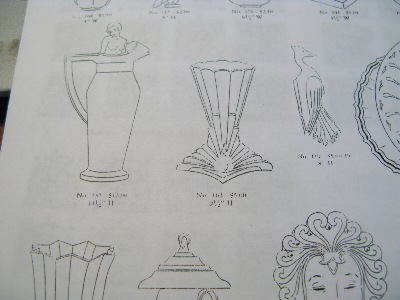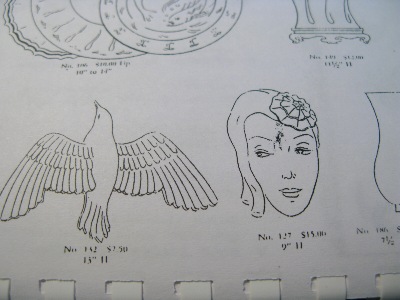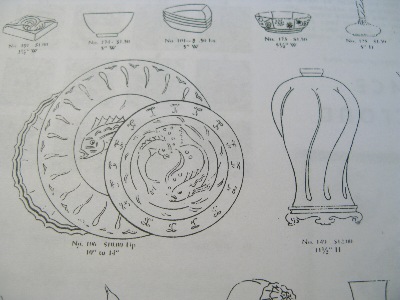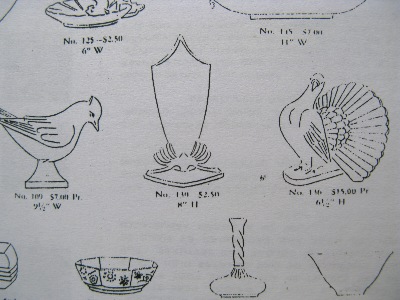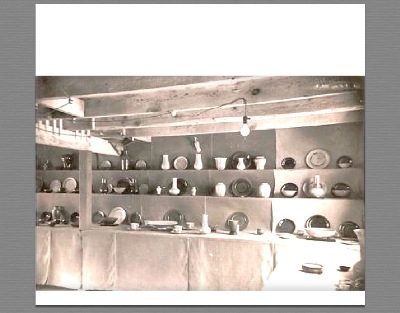 THANKS TO GENE BACHER FOR THIS WHITE CLOUD POTTERY PHOTO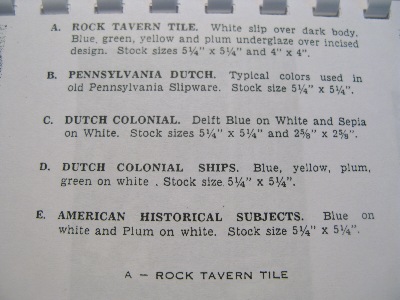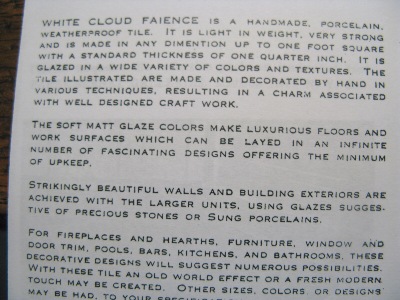 Below: the Bacher Farm house & Pottery property sites

Now Stewart State Forest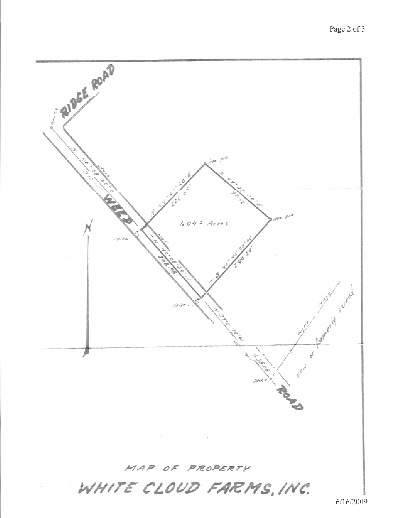 THANK YOU TO RON BURKE FOR THIS MAP OF LOCATION WHITE CLOUD FARM POTTERY BUILDING

BELOW. Art pottery, ca. 1965-1973 from Rock Tavern Pottery by Ron Burke who purchased the complete site contents and all in 1965, and was then forced to leave by new york state eminent domain in 1973.

WINE DECANTER made around the time man landed on the moon, see our link to Ron Burke Pottery for more info , or punch up Ron Burke Pottery on Google for more informantion...There is an amazing video there.

http://ronburkepotter.blogspot.com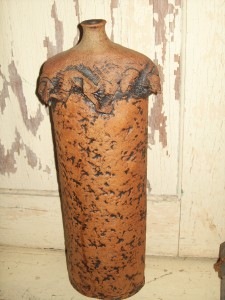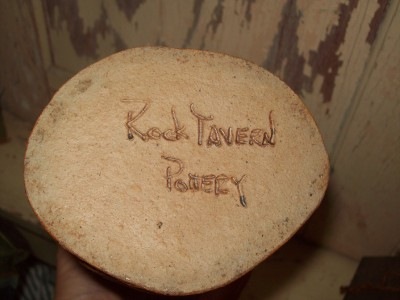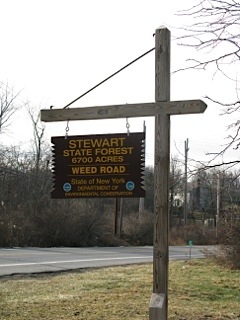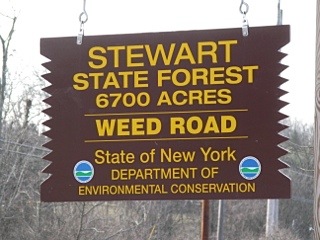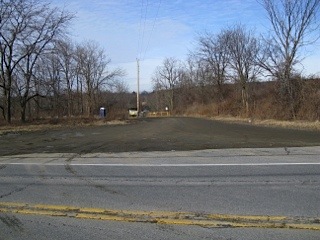 Entrance to Weed Road off Rt. 207 Highway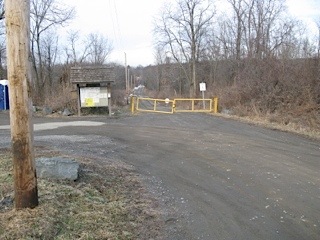 +

Open to hikers all year, gates are locked to cars, and opened for a few weeks during hunting season. parking lot is to left. this is looking down Weed Road. Forest Ranger building on the right half way down to Bacher property. also only open in hunting season.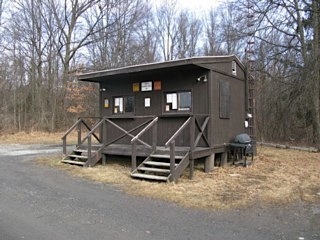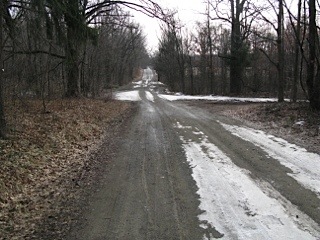 above. Intersetion of Weed Road & Ridge Road. Bacher farmhouse would be upper right property.. Pottery across the street on lower right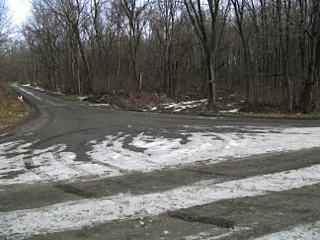 Ridge Road. Bacher house would be on left. Pottery on right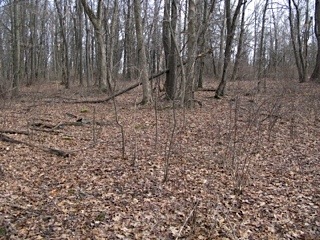 ABOVE. Where White Cloud Pottery stood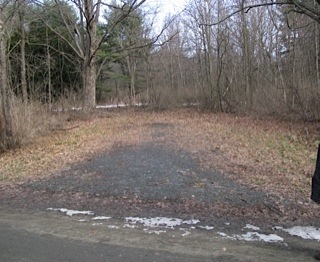 ABOVE. on Weed Road looking up driveway to Bacher House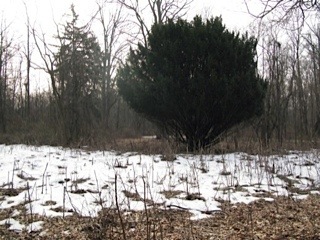 +

.This is what was a small cedar plant in front of Bacher Farm House. We are standing near the rear of the house, or where it was, looking onto Weed Road.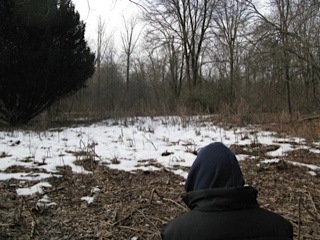 Looking at the location of Bacher House. where the snow is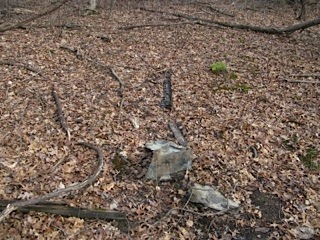 ABOVE; Photo from the White Cloud Farm Pottery land, just some scraps of sheet metal and a shingle

AND BELOW from the White Cloud Farm Pottery land, a childrens' slide, left from Ron Burke ownership and missed by the state clean up crews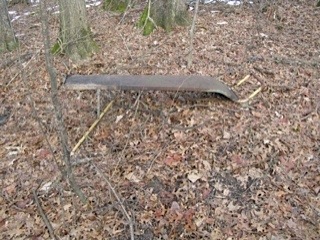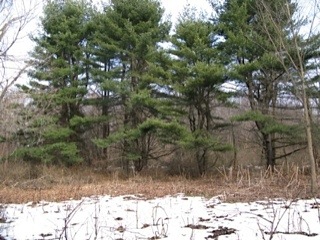 what was small planted pine trees behind the Bacher House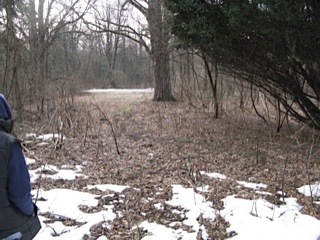 looking down the Bacher driveway from house toward Weed Road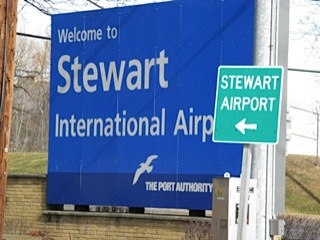 A few miles up the road is the entrance to Stewart International Airport, one would never know there use to be over 500 houses on the Stewart State Forest property; people forced to leave, homes bought out by state and destroyed